Tell it quick
short internet movie and photo festival
Tuesday, 10 April, 5pm, S2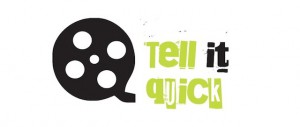 Prize ceremony of Second year of short internet movie and photo festival Tell it quick. The prizes will be given in various categories, such as feature film, document, video clip, or 5-second film and 60-second film. In photography festival, prizes will be earned for works from nature, or sport area. Theatre-improvsation group 3T took the role of being the godparents of the event. Over 200 films, and 300 photographs were signed for the festival. The members of jury are for instance: Peter Konečný, chief editor of film portal kinema.sk; director Vladimír Javorský, director of Puppet theatre in Žilina, Peter Tabaček; slovak documentarist and director Jaro Vojtek, sound technician Lukáš Kasprzyk, and others.
Program
5pm Festival opening
- Speech of festival manager and godparents
- baptizing the festival
First festival block
- Animated movies category
- Child camera
- category Experiment
6pm Second festival block
- Topfest category
- category Video movies
- audience award
- Playboy category
7pm Third festival block
Photography festival:
- category landscape/nature
- category macro
- category street/document/report
- category portrait
introducion of Roman Martinský´s – Hamlet or "skull discovery"
8pm Fourth festival block
- category Feature film
- category 5–second film
- category 60–second film
9pm Fifth festival block
- category Dokumentary
- Kinečko category
- Contribution to filmmaking
- Absolute winner
Festival ending ceremony
http://tell-it-quick.php5.sk
Event on Facebook
Admission: 2,00 / 1,00 € (adults / students)