Ján Šimko:
The Last Historical Mission of Young Generation
theatre performance / last performance
Thursday 26 April 2012, 7pm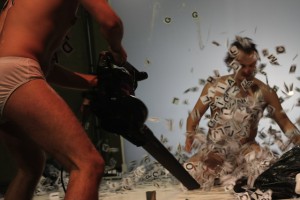 What happens, when you get to know on some party, that someone got beaten in Prague and a revolution started? Of course, perestroika runs for four years, regimes in eastern Europe are falling one after another, the Berlin Wall is being dismantled by first tourists but there is something in the air also in Czechoslovakia. But that´s politics, and the real life is somewhere else. Stories of students, who in crucial moments of November 89, stood their place at the edge of happening.
The staging talks about Velvet Revolution in 1989, which was led by students and actors, from the view of eye witnesses and participants. About naivety and ideals, and it´s conditions after twenty years. About a revolution theatre and an important role of actors in it. About students and actors in 2009 and about the thought, if there could be another revolution in the future.
Directed by: Ján Šimko
Starring: Marián Balážik, Martin Meľo, Juraj Igonda, Matúš Homola
Story by: Fedor Blaščák a Ján Šimko
Dramaturgy: Fedor Blaščák
Music: Matúš Homola
Song lyrics: Lues de Funes
Stage, costumes and light design: Jerguš Opršal
Lights: Ints Plavnieks
Scene development: Tomáš Morávek, Ints Plavnieks, Jerguš Opršal, Florent Hazucka
Production: Stanica Žilina-Záriečie
Premiere: 5. and 6. February 2010, at Stanica Žilina-Záriečie
The performance will be part of the project Ako na divadlo in cooperation with Divadelná Nitra Association.
More information on this staging: Ján Šimko: The Last Historical Mission of Young Generation
Admission: 5,00 / 3,00 € (adults / students)
Ticket reservation: rezervacie@stanica.sk, 041 - 56 23 564