Refugee film library
documentary projection and discussion
Wednesday 28 March, 2012, 6pm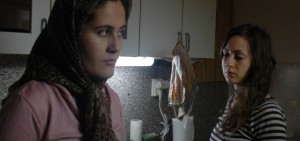 The aim of this movie evening hosted by Stanica, and organized by Slovak Governance Institute and staff from NGO Košice 2013 working on project SPOTs, is to offer a different point of view on refugees in Slovakia and central Europe, and to introduce people working with refugees daily. Four movies will be screened, four opinions on migration, asylum and refuge will be presented.
Soft breeze, notes from one immigrant´s diary (Sahraa Karimi, 2009, 52 min.)
People like us (Peter Rašev, 2007, 20 min.)
People like us 2011, right for haven - right to life (Peter Rašev, 2011)
Mirage (UNHCR Slovakia, 40 min.)
A change in screening order might occur.
Admission free.
Realized within the project "New ideas for migration and integracy policy" with financial support of Government office of the Slovak Republic within grant program Support of human rights and freedoms protection.