Slovak society before elections 2012:
Where we are, where are we going?
public discussion / PRIZMA
Tuesday 6 March 2012, 7pm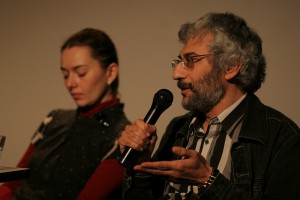 Sociologists from The Institute of Public Affairs Oľga Gyarfášová and Grigorij Mesežnikov in a pre-election discussion with curator of Memory Kontrol festival, Fedor Blaščák. They will speak about the condition and opinions of slovak society before parlament elections 2012, what are the moods of the public, how people perceive various political parties and its leaders, what do they await or how the Gorila case, and civil protests can affect the results of elections, and further development of public control.

The project of pre-election discussions was supported by Open Society Foundation, it takes place in Stanica as a part of interdisciplinary conference PRIZMA.
www.ivo.sk
www.memorykontrol.org
Admission free.