Jaro Viňarský: Body and communication I.
movement workshop
Friday - Sunday, 9 - 11 March 2012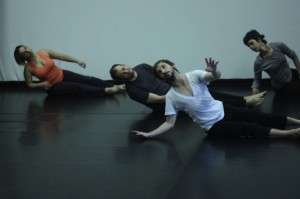 An intense weekend movement workshop with Jaro Viňarský within the project Space for movement. Slovak dancer, choreographer and performer Jaro Viňarský will focus during his workshops through the year on a problematique of communication. Based on dance terminology, he and his participants will explore the principles of interpersonal communication by using contemporary dance technique, the so-called "dance with a partner". Particular weekend workshops will be led in a rather creative way, where participants will have the opportunity to develop own thoughts and ideas regarding communication and to seek for own body means of expression.
We will deal with various principles of group improvisation, we'll explore the nature of a touch, and its specific usage in dance with a partner and finally, we will have a deeper look on a "contact" technique in contemporary dance, and physical theatre. Screenings and analysis of contemporary dance works, as well, as physical theatre and other inspiration sources related to the COMMUNICATION topic will be part of the workshop.
The Friday start of this year's workshop will be slightly unconventional. All the participants will meet at a "inspiration soirée" at Jaro Viňarský's place, where meetings and brainstorm of ideas related to the forthcoming workshop will occur. The program will then continue on Saturday, 10am.
Schedule:
Friday 9. 3.
17.00 - 17.30 registration at Stanici Žilina - Záriečie
17.30 - 18.00 move to Antona Bernoláka street, no. 45 ("Bulvár")
18.00 - 21.00 "inspiration soirée"
Saturday 10. 3.
10.00 - 20.00 workshop (with lunch break)
Sunday 11. 3.
10.00 - 16.00 workshop (with lunch break)
Workshops are dedicated mainly to general public, but also to actors and artists from other fields of art.
Info and registration: jaro@jarospring.com
Participation fee: 30,00 / 25,00 € (adults / students)