Film from the One world festival:
The Dancing Boys of Afghanistan
Documentary
Tuesday, December 13, 2011, 7pm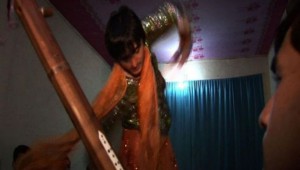 Bacha bazi (translated as: playing with boys), is an ancient practice, when young boys, dressed in womens´ clothes, dance to please strictly male audience. The tradition seems to be growing in recent years, thanks to former afghani commanders and businessmen, who tend to buy the boys, to demonstrate their prestige. Orphand picked up from the street, and children from poor families are then becoming their sexual slaves, and occasionally also murder victims. Afghani journalist Najibullah Quraishi came from exile back to his own country, to shoot a bold investigative documentary about this illegal phenomena, together with british director Jamie Doran. He earns trust of Dastager, influential and rich businessman, who´s enjoying plays with little boys, and says, that he had from two to three thousand children to dance to him.
The Dancing Boys of Afghanistan - Jamie Doran (UK / 2010 / 52 min.)
Admission: 2,00 / 1,00 € (adults / students)