Pecha Kucha Night Žilina – Volume 16
20 photographs x 20 seconds
Friday, September 23, 2011, 8.20pm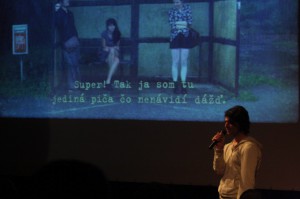 Autumn Pecha Kucha will bring you a fresh (and international) mix of architects, designers, artists and people who are worth seeing. Andrej Poliak presents his project Peripheral centres, Dutch photographer from Bratislava Illah van Oijen shows her first photos of Žilina as part of her project Urban Landscape. Another young architect from Žilina Katarína Luciaková, who's just opened her own new atelier LaReseArch, Andrea Kalinová and Daniela Krajčová present workshop called Abonded Recreation, which was made up in their response to crumbling spa buildings in Trenčianske Teplice. Colours of streetart will be represented by Tomáš Rybár and Braňo Laho from PEK crew, participants of ongoing Streetart Summit at Stanica. Fine artist Alžběta Skálová from Czech, who is at present an artist-in-residency in Banska St a nica, is to come as well. Plus designers Marie Davidová and Kolektiv. Presentation of Bélaműhely organisation from Budapest is also warmly expected. As the sixteenth Pecha Kucha takes place during Mobility Week, topical presentation are included in the program – e.g. fashion designers Segrasegra from Prague, making clothes for cyclists. Coming as well are Friends of the Earth represented by Jozef Gaalo.
Other guests still being added on www.pechakucha.sk.
Presentations in Slovak and Czech only.
Admission: 4,00 / 3,00 € (adults / students), one beer from Černá hora brewery included
Tickets booking: rezervacie@stanica.sk, 041 – 56 23 564