Milan Tomášik: Off-Beat
Contemporary dance, Slovak premiere: September 27-28, 2011, Stanica Žilina-Záriečie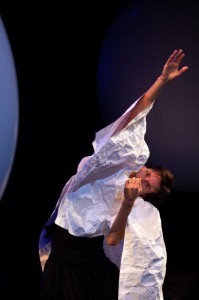 In his solo project Off-Beat, he's looking for a "new body" and new movement. He's juxtaposing the parallel between human breathing and the rhythm of music. He confronts the impulses of contemporary dancer with baroque music. He's exploring the tension between outside influences coming from the history of dance and inner impulses through dancer's concentration. The artists is thus trying to discover the physical potential, which would allow the dancing body step outside the known dance techniques and social preconceptions on the body.
In his movement-dance research, Milan Tomášik focuses on the significance and origins of dance. He's been cooperating with renaissance music and dance group Cortesia. Milan is a co-founder and active member of dance group Les SlovaKs Dance Collective.
Dance solo Off-beat is an international coproduction project. Stanica Žilina-Záriečie's partners are cultural organisations from Slovenia (Muzeum Ljubljana, Plesni teater Ljubljana), Belgium (STUK kunstencentrum) and international festival Ex Ponto (Ljubljana).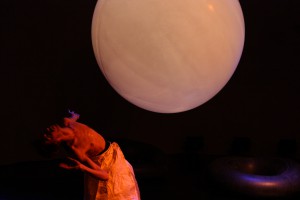 Concept, choreography, interpretation: Milan Tomášik
Dramaturgy: Samo Gosarič
Music: Janez Krstnik Dolar, Sašo Kalan
Light design: Luka Curk
Scenography and costumes: Jasna Vastl
Musicology consultant: Lidija Podlesnik Tomášik
Expert for historical dance: Lieven Baert
Production: PHILEAS PRODUCTIONS (Belgium), Plesni Teater Ljubljana (Slovenia), Zavod Muzeum (Slovenia)
Coproduction: STUK (Leuven, Belgium), Stanica Žilina-Záriečie (Slovakia), festival Ex Ponto (Slovenia)
Without language barrier.