Jaro Viňarský: Body beneath the skin – Arms
Dance workshop
Friday – Sunday, June 17-19, 2011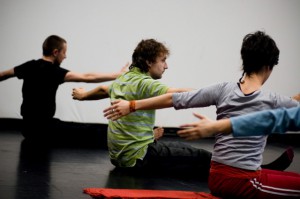 Another one from the series of weekend dance workshops by Jaro Viňarský called Anatomy of movement and choreography. Another intensive weekend follows the workshop dedicated to pelvis and torso. Along with arms, we'll be concentrating on all of these, trying to understand the complexity of the body work, which is necessary for understanding the body in motion and its particularities in the field of dance and physical arts.
Workshops open to general public, actor/actresses and artists from other fields.
Info and application: 0907 497 481, martina@stanica.sk
Participation fee: 20,00 / 15,00 € (adults / students)