Na novom krídle / Flying on New Grand Piano
Concert / Classical music anew
Saturday, May 21, 2011, 7pm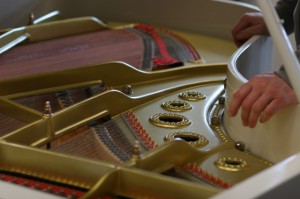 Stanica has got a new piano! A restored white grand piano by the Rösler make from 1993 will be baptized by well-known Slovak pianists and composers: Ivan Gajan, Jordana Palovičová, Ivan Šiller, Kamil Mihalov, Peter Zagar, Branislav Malatinský, Jaroslava Šimerková, Martin Jurčo and others.
Pianist Beena Kumar-Karpisova from Norway donated the piano to Stanica before she left for home. Since the instrument is more than 80 years old, its general restoration was inevitable. It was performed by maestro Pavol Tima from Bratislava, who has spent about 400 hours of work on our piano.
Just to add that you can still support demanding restoration works via project Na krídle (klavír pre Stanicu) on Dobra krajina (www.dobrakrajina.sk) or in person at Stanica. Proceeds from the event will support its further renovation and concert life at Stanica.
Entry: optional, used for the piano renovation