Vít Klusák: All for the world's own good and Nošovice
Documentary
Monday, May 2, 2011, 7pm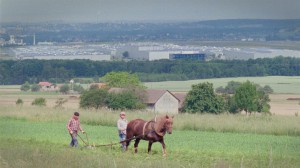 Once again shown at Stanica for a great success and topicality. Documentary slapstick by a provocative director Vít Klusák (author of Czech Dream or Czech Peace) about a field, on which cars grow, and a factory which landed in Nošovice like a UFO. A slapstick which resembles situation of once green field near Žilina.
North Moravian village Nošovice was famous for its Radegast brewery and first-class cabbage soup. Due to a political decision in 2006, it became a place where Hyundai car company built its biggest branch in the Czech republic. The Korean company and politicians set the locals against each other, and forced them to sell their land. What is the impact of Hyundai on the life in this peaceful village of one thousand people? Is Hyundai doing all "for the world's own good"?
In Czech with English subtitles.
Admission: 2,00 / 1,00 € (adults / students)