Meeting with the teachers of elementary and high schools in Žilina
Wednesday 9. 2. 2011 15.00 and 17.00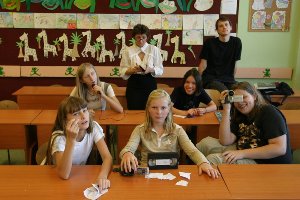 Dear teachers in Žilina!
Have you noticed that Stanica is offering a part of its activities also for students of elementary and high schools? Would you like to know about this program in contemporary arts and culture - creation as well as theory and history? We are also interested in your plans and needs and we invite you for informal meeting that will take place in Stanica on Wednesday February 9, 2011:
- at 3pm for teachers of elementary schools,
- at 5pm for teachers of high schools.
We are looking forward to meet you!
- - -
If you cannot come but you are interested in receiving news and invitations for school activities in Stanica, please contact us via email or telephone: Hana Hudcovičová Lukšů, hanka@stanica.sk, 0907 178 756.