The Painted Bird performance in La MaMa in New York City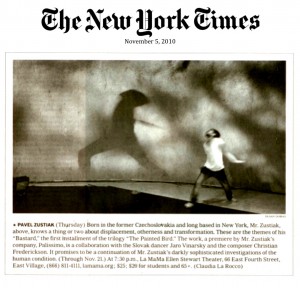 You may remember this contemporary dance performance created in our co-production premiered in summer in S2. These days (November 11 - 21, each week Thursday - Sunday) it is being premiered for US audience in the legendary theatre venue La MaMa E.T.C. in New York. Here is the first article from newspaper - the photo by Dušan Dobiaš oon the cultural page in New York Times is from summer in S2.
The New York-based choreographer Pavel Zuštiak (born in Slovakia) has garnered considerable accolades for richly layered, experiential performance works that combine dance with various other mediums. Bastard, the first part of a trilogy called The Painted Bird tackles themes of displacement, otherness and transformation. La MaMa, in association with Zuštiak's company, Palissimo, presents the official world premiere of the work. The music was created by New York-based musician and composer Christian Frederickson and performed by Slovak dancer Jaro Viňarský.
The Painted Bird is loosely inspired by Jerzy Kosinski's controversial novel of the same name. In Bastard, Zuštiak draws upon the book's signature scene–a wandering boy witnessing the painting of a bird in brilliant colors, causing it later to be violently killed by its own flock for being an imposter–to create a new work that transforms the internal landscape of agony and misrecognition into a collective remembrance.
Pavel Zuštiak is the Artistic Director of Palissimo Company, which he established in New York City in 2004 to pursue artistic liberty and communion with live audiences. Palissimo is known for sophisticated, multidisciplinary works rich with emotional content and surrealist imagery that explores the darker shades of human behavior. A 2010 Guggenheim Fellow, 2008-2009 Movement Research Artist-in-Residence, and winner of both a 2009 Princess Grace Work-in-Progress Residency Award and 2007 Princess Grace Award, choreographer Zuštiak has created a repertory of original works and commissions that have toured nationally and internationally to audience and critical acclaim. Born in the former Czechoslovakia and trained at the School for New Dance Development in Amsterdam, Zuštiak presented early works in Czechoslovakia, Holland, Denmark, and Belgium before relocating to the U.S. in 1999.
If you are in New Yorku, you are welcome. More info:
www.lamama.org
www.thepaintedbird.org
And here is the first report in New York Times at www.nytimes.com.
The performance was created with financial support of Trust for Mutual Understanding, Simon Guggenheim Memorial Foundation, Greenwall Foundation, CEC Artslink, US Embassy in Slovakia, Ministry of Culture of the Slovak Republic and NF Slovak Telekom.
The next performances of Bastard in USA are scheduled for January 2011, we are preparing the Slovak tour for September 2011. If interested to host the performance, please contact Martina Filinová - martina@stanica.sk.