Pecha Kucha Night Žilina – Volume 12
Friday 29. 10. 2010, 20.20
Popular presentation format 20 images x 20 seconds, which promotes the work of interesting people from different fields. The twelfth Pecha Kucha Night Žilina will host architects Zuzana Kierulfová (ozArtur.sk), Martin Lepej, Martin Bosík and Robo Sekula (Unimo.sk), designers Jiří Přibyl and Martin Imrich (Koncern.cz), visual artists Rado Čerevka (Kassaboys) and Michael Daskalakis (Považské Museum), theatre director and actress Sláva Daubnerová (PAT.sk), Michal Žarnay from Žilina University and Erika Tordová, who will present the technique of house isolation with wood fibre (Hofatex.sk). Jakub Kováč will present good music club BarMuseum from Martin and Martin Gálik will bring nice Dutch bikes (Hollandika). There will be a mobile installation of 5 single houses built by progressive architects in Slovakia (PBlog.sk - Domografia). There will be for sure fun with popular theatre group 3T. The list of presenters is completed by youngest visual artist Ormoš and well know book design artist Lida Mlichová. There will be also a musical set by Jesus Stickers… and it is going to be a nice evening for sure, you are welcome!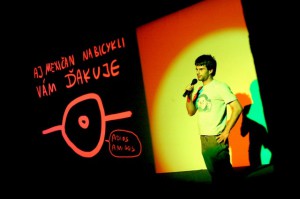 www.pechakucha.sk
www.pecha-kucha.org
In Slovak and Czech.
Admission: 4,00 / 3,00 € (and pre-sale is 1,00 € cheaper, so book in advance)
Reservations: rezervacie@stanica.sk, 041 – 56 23 564