Our Žilina
Volunteer project
Friday – Saturday, 24. - 25. 9. 2010, 09.00 – 17.00
Our Žilina is a company volunteering project, which was realized by Pontis Foundation for the first time in 2009 in the manner of "Naša Bratislava" event. Company employees comprise volunteers, who come straight to the community organizations helping to realize various not-for-profit activities.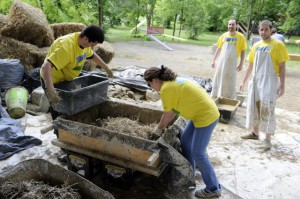 Last year at Stanica, around twenty volunteers were helping to put clay plaster during building S2 venue. This time, they will help adapting park/camp under Rondel, which is being gradually changed into year-long usable public space.
Except for being a park, it can be used as a camping area, playground or sporting area. We are curious ourselves to see what can be done in two days.