Volunteering of Young People
conference, Friday 1. 10. 2010, 9.00 - 16.00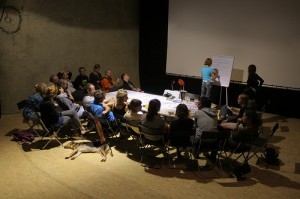 On the occasion of the Telefónica group Volunteers' Day you are invited to Stanica for a small conference by Telefónica O2 Slovakia and Ekopolis Foundation. The main topic of the presentations and discussions will be how and why and where young people help as volunteers, especially linked to international Telefónica's program Think Big and its pilot year in Slovakia. There will be presentations by experts from Ekopolis Foundation (Martina Paulíková, Lucia Skokanová), O2 (Peter Stopiak) and Volunteering Centre of Matej Bel University (Alžbeta Brozmanová Gregorová), and showcase of projects realised in practice - Skate Park in Zvolen (Michal Kuvik, public square in front of Cinema Akropola in Kremnica (Zdeno Gális) and of course our local example from Stanica (park and camp under Rondel). And open discussion of course. All the conference is in Slovak, but we are ready to translate if needed, just ask one of Stanica's team.
Here you can download a complete program and invitation (in Slovak only).
After lunch there will be an opportunity of real volunteering and not only the employees of O2 can participate. We will continue on works to be done in our park. And in the evening there a concert of jazz trio Pink Horse, so the day is complete and great.