BarCamp Žilina 3
IT conference, Saturday 11. 9. 2010, 10.00 – 22.00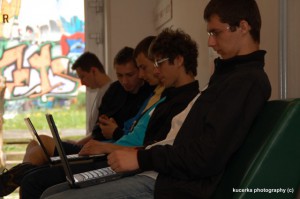 Open conference (Stanica_FLUX)
BarCamp is an international network of user-generated open conferences, the participants of which become the lecturers. It is meeting of people, which was born out of the need for sharing and learning in an open environment. The aim of this event is not only to deliver lectures and presentations, but mainly to open up discussion and cooperation of the lecturer with the audience. BarCamp topics range from IT, marketing, social media to design. At the end of the day, there will be PartyCamp – afterparty with DJ Alian.
Admission free.
Tagged as: barcamp, conference, design, dizajn, it, konferencia, lecture, marketing, party, prednáška, social media, sociálne médiá
Comments are closed.