Palissimo: The Painted Bird | Bastard (Part I)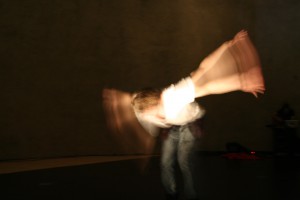 Bastard is the first part of a trilogy project The Painted Bird about displacement, "otherness" and transformation. Solo dance project Bastard is inspired by a controversial novella by Jerzy Kosiński The Painted Bird from 1956.  In one of the chapters, the main character meets a man who, out of his rage, paints a little bird's feathers and releases it back to the flock. The bird is seen as an alien, and thus pecked to death by others.
Palissimo (USA/SK): The Painted Bird (Časť 1. - Bastard) from stanica on Vimeo.
What does it mean to live in exile? How does exile affect the one? How is the one re-formed? What is exile? When does it end? What is the difference between refugee, expatriot, deportee, emigrant? What is the difference between those who moved with their roots, and those who are left with no roots at all? Does not each of us live beyond borders in one way or another?
The Painted Bird is American-Slovak-Polish coproduction. Choreographer and director Pavel Zuštiak, living in New York, joined forces with Slovak dancer Jaro Vinarsky and music composer Christian Frederickson from the US. As in the previous works, his specific poetics is traceable in this performance as well: mysterious, multi-layered surreal images charged with emotional power.

Concept and Choreography: Pavel Zustiak (USA/SK)
Created in Collaboration with Dancer: Jaro Vinarsky (SK)
Original Music and Interpretation: Christian Frederickson (USA)
Light Design: Tomas Moravek (CZ) / Joe Levasseur (USA)
Projection Design: Manny Palad (USA)
Production: Palissimo Inc. (USA)
Co-production:  Stanica Zilina-Zariecie (SK), Grotowski Institute (PL), La Mama Etc. (USA)
The Painted Bird | Bastard (Part I) is co-production of Palissimo Inc. (USA), Stanica Zilina-Zariecie (SK), Grotowski Institute (PL) and La Mama Etc. (USA). An early research of the work took place thanks to the Movement Research in New Yorku and University of California in Irvine. Bastard was created with financial support of Trust for Mutual Understanding, Simon Guggenheim Memorial Foundation, Greenwall Foundation, CEC Artslink, Foundation Slovak Telekom at Intenda Foundation, US Embassy in Slovakia and Ministry of Culture of the Slovak Republic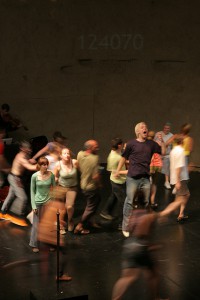 www.thepaintedbird.org
www.palissimo.com
www.lamama.org
www.grotowski-institute.art.pl
"…compellingly surreal aspect and a genuine darkness reminiscent of the work of Josef Nadj, another Eastern European choreographer who creates inscrutable works about displacement and death … its images aren't easy to forget."—Roslyn Sulcas, The New York Times