Palissimo (Usa/ Sk): The Painted Bird/ Bastard
opening night 22. a 23. 7., 20.00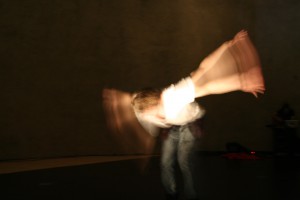 On Thursday and Friday July 22 and 23 there will be an opening night of new the American-Slovak solo performance choreographed by Pavel Zuštiak with Jaro Viňarský in th emain role.
Premieres of this physical theatre production are held on July 22 and 23, 2010 and will open the KioSK festival of independent Slovak theatre and dance.
Bastard is the first part of a trilogy project The Painted Bird about displacement, "otherness" and transformation. The Painted Bird | Bastard (Part I) is co-production of Palissimo Inc. (USA, www.palissimo.com), Stanica Zilina-Zariecie (SK), Grotowski Institute (PL) and La Mama Etc. (USA). An early research of the work took place thanks to the Movement Research in New Yorku and University of California in Irvine. Bastard was created with financial support of Trust for Mutual Understanding, Simon Guggenheim Memorial Foundation, Greenwall Foundation, CEC Artslink, Foundation Slovak Telekom, US Embassy in Slovakia and Ministry of Culture of the Slovak Republic.
Concept and Choreography: Pavel Zustiak (USA/SK)
Created in Collaboration with Dancer: Jaro Vinarsky (SK)
Original Music and Interpretation: Christian Frederickson (USA)
Light Design: Tomas Moravek (CZ) / Joe Levasseur (USA)
Projection Design: Manny Palad (USA)
Production: Palissimo Inc. (USA)
Co-production: Stanica Zilina-Zariecie (SK), Grotowski Institute (PL), La Mama Etc. (USA)
On our website you can also read the interview with the creators - Palo Zustiak and Jaro Vinarsky.

"…compellingly surreal aspect and a genuine darkness reminiscent of the work of Josef Nadj, another Eastern European choreographer who creates inscrutable works about displacement and death … its images aren't easy to forget." (Roslyn Sulcas, The New York Times)
"Zustiak's fascinating if unsettling choreography … abundant, surrealist imagery." (Eva Yaa Asantewaa, Infinitebody)
photo by Jitka