The Painted Bird - interview with artists in residency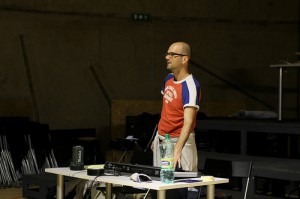 Pavel Zuštiak is a Slovak dancer and choreographer living in New York City where he is heading his company Palissimo. Jaro Viňarský lived in Prague, more than a year ago moved to ŽŽilina, but mostly performs in Belgium. Together (Pavel as a choreographer, Jaro as a performer) they currently rehearse at Stanica developing a new dance performance The Painted Bird, which will premiere at KIOSK festival on July 22-23, 2010. We want to share the inspiration and motivation behind the creative process through interviewing both of them while in residency at the S2 theatre. This interview is about the process as well as exile which is one of the themes of their new work.
How do you know each other?
PZ: I know Jaro for a long time, we go back to when we were starting as artists. We stayed in touch after I moved abroad. I saw his solo work in Prague in 2005 and after seeing it I wanted so much more to work with him. We have always wanted to work on a project together
but it was always complicated because of schedules or money. Stars aligned and a window of opportunity showed up now.
JV: I remember our first meeting when I was still dancing for La Mosca company in Kosice. I think it was in 1994 when La Mosca invited Palo to give an intensive workshop for the company members. Palo just returned from Canada where he went to school. I was inspired by what was proposed to us since things like improvisation and partnering were not as common in Slovakia at the time. These were new dance discoveries for me.
Why do work specifically on this production together. What do you get from your collaboration?

PZ: This production that we are currently in rehearsals for is first part of a trilogy project The Painted Bird about displacement, exile, migration and otherness. It is a solo work and dramaturgically it felt right to approach Jaro about this project. It is the way of working that is new for me – in New York you are building a show over a year, and since the space is luxury there, it is always few hour here and few hours there. Of course conceptually we started much earlier, but the creative residencies at the Grotowski Institute in Wroclaw and at Stanica in Zilina, Slovakia are a real luxury for us – having access to the theatre over an extended period of time. The process is this way different and I hope deeper.
JV: Working with each choreographer is different, it brings new possibilities and for me as an interpreter also new approaches how to capture and express choreographer's intensions. It is the same in this case with Palo. Creatively we are figuring each other out. Palo does not have a formula. Palo is also learning my ways of working, how I process movement and ideas that are leading towards the final work. I worked intensively with Belgian choreographer Karine Ponties which affected me significantly. I have noticed how I am still holding unto this experience and how I am thanks to Palo's approach - which is quite different - departing from it. For instance Palo does not give dancers as much freedom as Karine did. He has a clear idea about the movement and is entering and offering dancer material, which I have to wrangle with as an interpreter. It is a challenge for me. When I work with a choreographer it is important for me to trust him/her. Palo has an original voice of movement expression and that is important to me. His creative world and thinking is not foreign to me and I entered it happily. The result will tell more.
You are rehearsing the first part of the trilogy. Do you plan to present all three parts together or do you see them as three milestones within a certain project/theme?

PZ: Its first part, solo work for Jaro Vinarsky, will premiere at Stanica during KIOSK festival in July. I am returning to New York where I am prepping for two weeks for a three week residency developing Part II at the Baryshnikov Arts Center. I am dancing in it with Lindsey Dietz Marchant and Nick Bruder, and collaborating with composer and musician Christian Frederickson (who is with us also now at Stanica), photographer Robert Flynt, animation designer Keith Skretch and light designer Joe Levasseur. We will most probably play Part I in Europe before or shortly after November New York premiere of Part I. We will work with Jaro there from mid-October.
Each part of The Painted Bird is planned as a unique theatrical experience differing from the other ones. Part I is set up in a proscenium theatre space. Part II is an immersive installation-like performance – there is no seating in the black box and performers and audiences are in it together. Part III will be in an unconventional space which we are still scouting for. Audiences will this way allegorically migrate from one performance to the next and this way I hope that they will not be able to rely on the previous theatrical experience and thus encountering it as if for the first time. Stanica is presenting Part I. All three parts will premiere in New York City over the period of one year – in November 2010, May 2011 and September 2011. I'd like to present all three parts together also outside of New York. Of course that involves a lot of logistical issues to tackle.
American musician Christian Frederickson also rehearses with you and performs, there is video projection - is it going to be a diverse multi-genre performance?

PZ: More than being faithful to any genre (which merge and overlap more and more these days) I am concerned with how to create work which grabs people and keeps their attention. I require the audiences to be co-creators. It might be that they leave with more questions then answers.
Christian is a composer and is a founding member of band Rahcel's. I knew their music and approached him about working with me on this project. It is our first collaboration. In Part II he will be joined by three other musicians.
Why do you rehearse in Slovakia and Poland and not only in New York?

PZ: When these opportunities of work in creative residencies came up I was very happy. We are dealing with displacement and a migration in this performance so working in an environment to which we have to travel reflects the themes themselves.
The longer a show lives, the more we work on it, it matures and all collaborators can go deeper. We will work for about a month in New York City before the November premiere.
JV: It has even more personal meaning for me. I want to and would like to work more in Slovakia than before. I want to live and create here. It requires to be actively involved in creating conditions for contemporary dance. I did not want the whole process for this project to take place in New York City. It would be a pity not to take advantage of conditions offered by Stanica who I work with for some time now. I wanted to continue my relationship with Grotowski Institute in Wroclaw, which co-produced my performance Paisyn. It relates to the theme of the performance as well. It is wise to create in the environment I which the themes emerged – Palo "emigrated" to the United States, and I wander across Europe hoping to settle in Slovakia again. So it is all related.
Is this Palo's first work in Slovakia?

PZ: My dance beginnings go back to Tremolo Dance Company. I choreographer for the Company's 23 dancers to Musorgsky's Pictures at an Exhibition. While still in Slovakia I led a company Almost Incidental Formation of Almost Dancers. But that is almost 16 years ago. This is my first work I am making in Slovakia since I left.
JV: Isn't it fantastic? Even though many Slovak artists live outside of Slovakia, there are opportunities how to bring them back into the environment which they left, even though many will not return permanently. I think it is important to keep those fragile connections of culture and art tradition.
How is live of dancer/choreographer different in Europe and the States?

PZ: There are many similarities, several differences but at the end of the day each person has their own path. I think the most important thing is to go forward and not to try to fit somebody else's shoes. It is difficult to be noticed and to "make it" in New York. Conditions are sometimes unbearable – but that also connects artists who can be genuinely happy when someone else succeeds, as they know how difficult it is. It also contributes to the fact that dancers and actors have stamina a fight full on.
What are your first impressions of the unique space S2 where you rehearse?

PZ: Just like in life I am trying to work with what is in front of me. I am opening the work to the space and allowing it to affect it. S2 is in its development but am hoping that you will keep it as universal for its use as possible. We performed in an old powerplant in Poland which was a beautiful space, so unusual S2 did not surprise us. What surprised me more is atmosphere at Stanica that we are enjoying daily. There many different people passing by for different reasons and the doors are open, people are given space to see, listen to and express themselves. And that is wonderful.