Viera Dubačová & coll.: Schoolmates
Documentary theatre performance, premiere November 17, 2008 in Stanica (derniere November 20, 2009 in Stanica)
Performances: Stanica, Martin (festival Dotyky a spojenia, June 2009), Bratislava (festival One World, September 2009), Banská Bystrica (festival Arteterapia, November 2009)
Personal history of a period. Performance - event based on anniversary schoolmates´ meetings that took place at Stanica Zilina-Zariecie. Eight classes, and schoolmates graduating within 1967 - 1997 have met in Stanica during the year 2008. And they will meet again.
Authentic people and their story-telling. Personal experience, memories from schooltime, amateur films, photos and historical background. "Schoolmates" studying in four different decades and a professor who decorated his last class with green ribbons as a symbol of maturity in 1968.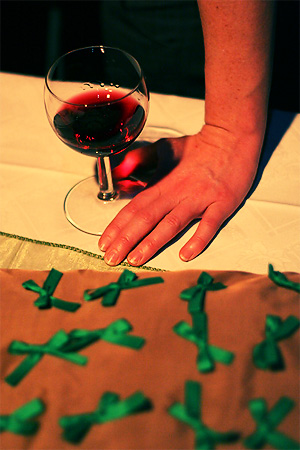 Premiere: November 17, 2008, Stanica Zilina-Zariecie
Story: Marek Adamov and Viera Dubacova
Director: Viera Dubacova
Dramaturgy: Martina Filinova
Film projections director: Adam Hanuljak
Film projections editor: Peter Kotrha
Photography: Peter Snadik
Performing: Maria Zidekova, Stefan Zvarik, Maria Hlistova, Dagmara Kolimarova, Jan Nicik, Marek Adamov, Frantisek Vanko
Performance Schoolmates was created within the international artistic-research project 68/89 (www.68-89.net). Production is supported by Central European Foundation and Company Slovnaft, Ministry of Culture of Slovak Republic and Zilina Municipality.