Eduard Kudláč: Feed the Snake on Your Chest - Part II: Reality Report
(intellectual concept/sketch)
Topography of a country of people, who went out of the map.
With the fact that we cancel the money on the earth, we TAKE pseudocreators and lizards their MAIN DOMINATION TOOL - a program, through which they ENSLAVE, MANIPULATE and SUCK AT / ASPIRE ENERGY of terrian humanity (fear and other negativ emotions, superflu work useless for essential valuable life etc.).
In cancelling the money on the earth, we continue to break their control technologies, including creation of the chip totality and in the final step we send them out by our love to zones of exile.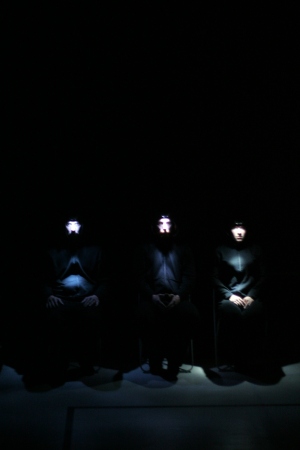 Performance was made in coproduction with Stanica and Phenomenontheatre with financial support of the grant program of Zilina city.
Premiere: May 7, 2008, Stanica Zilina-Zariecie
Concept and director: Eduard Kudlac
Performing: Ivana Dankova, Lukas Puchovsky, Juraj Tabacek
Light design: Richard Cerny
Photography: Dusan Dobias