Nicoleta Esinencu (RO & Eduard Kudláč (SK): Fuck You Eu.Ro.Pa!/ Zuckerfrei
theatre performance
Project Fuck You, Eu.Ro.Pa!/ Zuckerfrei is the concept of one topic and inscenation of two texts written by the young Romanian author Nicoleta Esinencu (1978).
Personal story, family failures, orgasm, totalitary regim, family, communist bimbos. Icons, which locked the life of several former generations and icons that sell us the feeling of freedom now.
Performance produced by Truc spherique with residence in Stanici Zilina-Zariecie and financial support from Central Europe Foundation (CEF) and the company Slovnaft Plc.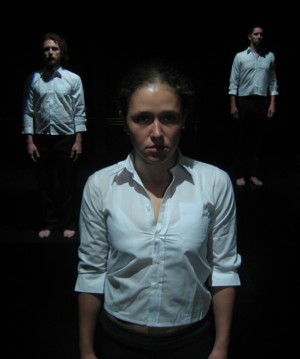 Premiere: May 11, 2007, Stanica Zilina-Zariecie
Text: Nicoleta Esinencu (RO)
Translation: Eduard Kudlac and Maria Leitmanova
Director: Eduard Kudláč
Performing: Ivana Dankova, Juraj Tabacek and Lukas Puchovsky
Light design: Tomas Varga