Program for June 2017 (English version)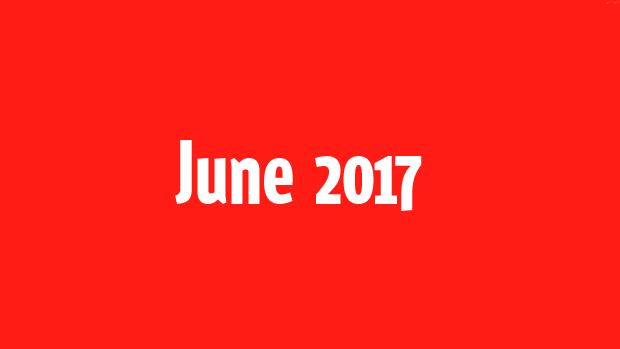 1.06.2017, Thursday, 18.00, gallery Plusmínusnula
Thursday 1. 6., 18.00, gallery Plusmínusnula
Opening of the exhibition. Jana Bernartová: Liquid Crystals R0G0B25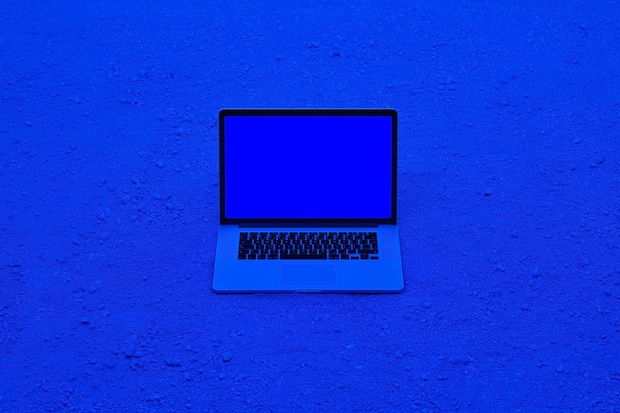 Jana Bernart in details analyzes "digital blue", which is the basic color when launching a data projector. R0G0B255 is a standardized color - but it's not always the same. Differences are due to the type of different media device, but also to the extent of their usage or technical defects. Likewise, our perception of color is influenced by the perception frame (lightness or darkness, etc.). The aspect of variability and interaction will be included in the exhibition, depending on real-time changes in the gallery. Within the Jana Bernartova`s project in curatorial co-operation with Tereza Jindrová will be created an unfinished "sampler" of various incarnations of R0G0B255. The exhibition will run until July 14, 2017
2.06.2017, Friday, 19.00
Dance performance:Desire & Discipline;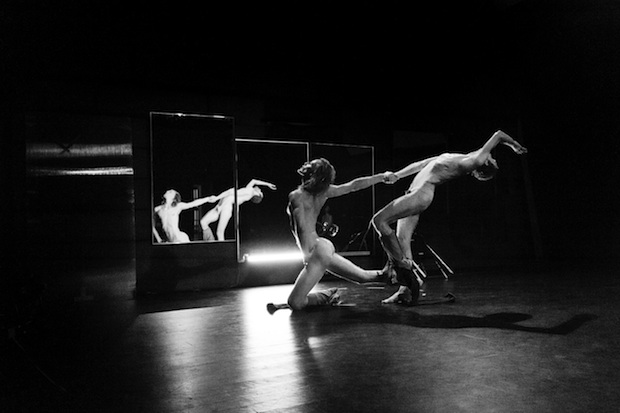 a Study of Erotics of Dance is a dance performance made by Matthew Rogers (SK/USA) and Chris Leuenberger (CH) that focuses on the wild, ironic, vulnerable, aesthetic, dark nature of male eroticism. Using themselves/each other as the subject and object of desire, they playfully build upon the freedom gay men have to create new models of relating and bonding as humans. Their relating engenders a fantasy world that intertwines historical dance references with personal pursuits of labor and intimacy. Inside Desire & Discipline, homo-erotics are used as a metaphor for self love, connection and sexual autonomy.
Tickets: 4.00 / € 2.00 (adults /students)
3.06 - 4.06.2017, Saturday-Sunday
Dance workshop
Matthew Rogers (SK / USA) a Chris Leuenberger (CH): Desire & Discipline; a study of Erotics of Dance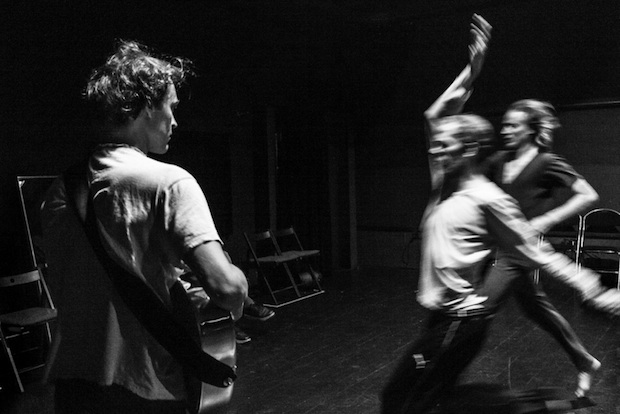 In this workshop we will share tools and strategies for generating dance forms from an experience of pleasure and vitality. We'll follow our curiosity and explore what engages our desire to move. We'll use touch and create sound together. We'll exercise full body pleasure while dancing. In group, duet and solo form, we will uncover qualities of movement that support the visibility and power of our own erotic nature. With some reflection you may redefine your understanding of erotics in dance.
To register use this link
The workshop fee, includin entrace to Friday`s performance is 60,00 / 40,00 € (adults / students)
English is the main working language
4.06.2017, Sunday, 17.00
Community dinner: Traveling Vegan Sunday
Vegan Sunday at Stanica happen once a month and each Sunday has its topic (late harvest, traditional Indian , Christmas), which tells you on what kind of food you can enjoy and in what kind of food you can also cook for common table.
We are also asking you to bring your own plastic bowls to make organizer`s job easier.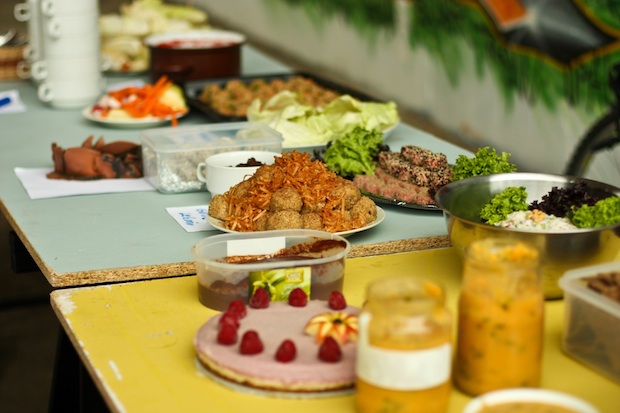 This particular Vegan Sunday we encoarage you to cook favorite dishes from your traveling destinations.
Admission to the dinner is free, but on the tables are always money-box for a voluntary contribution. All money left at the end of the year will be added and devote organizations dealing with abandoned animals. It is up to you how much you decide to contribute.
6.06.2017, Tuesday, 17.00 and 20.00
Movie: Viva

Country of direction: Ireland, Cuba / 2017 / 100 min /Spanish language, Czech subtitles
Tickets: 3.00 / € 2.00 (adults /students)
7.06.2017, Wednesday, 17.30
Café Europa. Discussion with coffee and cake: Why do arrogant and rude are successful in politics?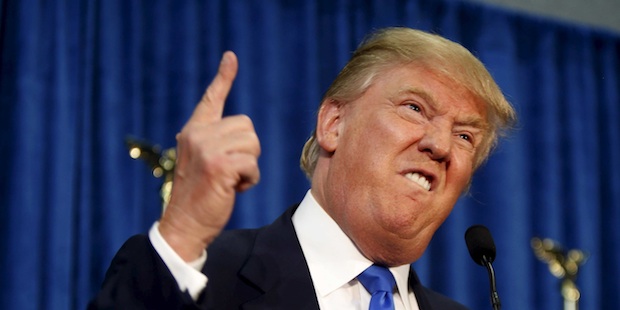 June`s topic of Café Europa discussion is the level of political culture (not only) in Slovakia. Rudeness, populism and arrogance have occupied a political scene and are more and considered more successful way of political behavior all around the world from Philipines through USA till Slovakia. Why it is like that and is it possible to do somehting with it?
Free entrance
8.06.2017, Thursday, 20.00
Concert in the Bar: Nature Boys (US), Prach
Nature boys (Kansas City, US) are genius catchy explosive dirty rockie. Must see for fans of Dead Moon, Wipers, Lost Sounds, Reatards, Oblivians and similar punk rock bands inspired by blues and rock`n`roll. Nature Boys, however, are much sharper and misleading (they are not only boys). They play the way that looks easy. You need to be careful about such bands because they catch you and they will not let you go.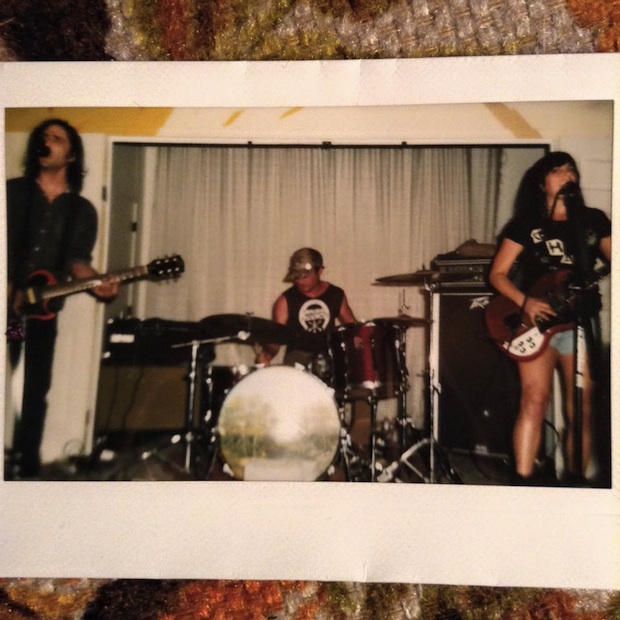 Local support will be presented by Prach. And it will exclusive, because they nhave no recordings. So now is the chance!
Concert is organized by Burina Records, Heavy Metal Vomit Party and Black Pitt.
9.06 – 10.06.2017, Friday-Saturday, Nova Synagoga
Working exhibition
The working exhibition is our attempt to deal with the space of Nova Synagoga. With its weight, historical and architectural, with its beauty and meaning, with the measure of its landmark (un)touchiness and the completion of its reconstruction, which delights us and at the same time forces us to think about which type of cultural space we are opening. We wanted the artistic and theoretical reflection to not be separated from physical work on reconstruction, but to be a specific part of it. Therefore, residences of invited artists, architects and theoreticians from Slovakia and abroad have taken place in parallel with the last reconstruction works. Together with them and the general public, during working exhibition we will try to think how to approach Behrens and modernist architecture without slipping to uncritical adoration. How to handle the complicated history of the New Synagogue and not to unload some of its layers. Howh the hierarchical and sacral space originally communicates with the vision of an open cultural institution.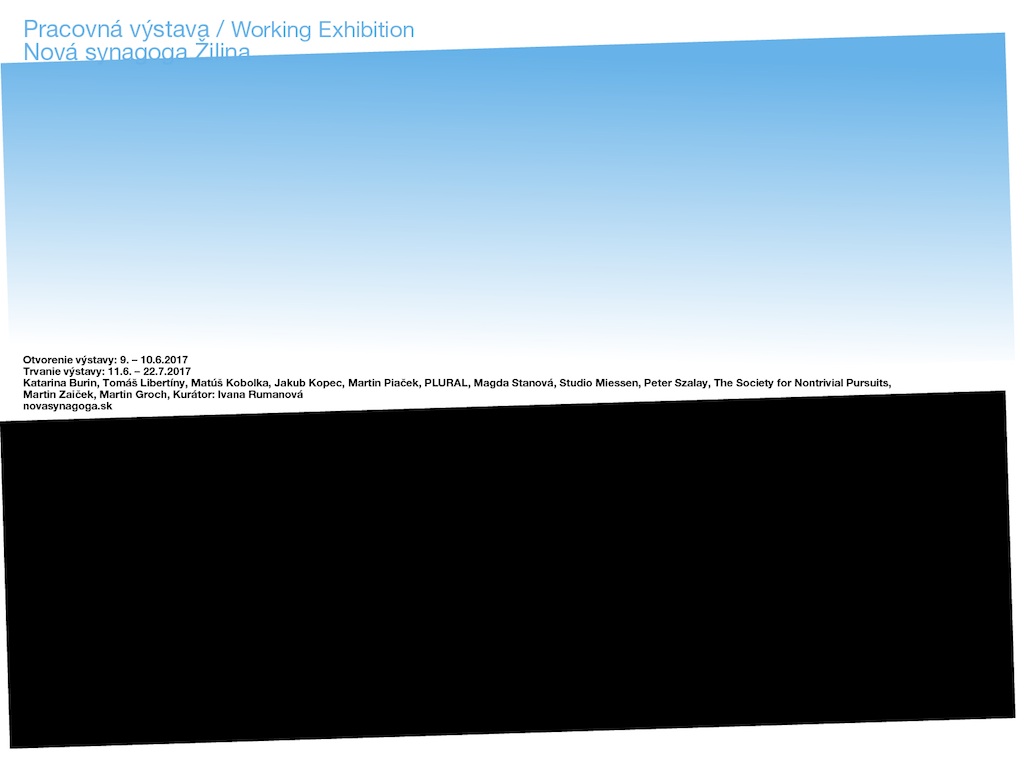 Duration of the exhibition: 11. 6. - 22. 7. 2017
Participants of the exhibition: Katarina Burin, Martin Groch, Tomáš Libertíny, Matúš Kobolka, Jakub Kopec, Martin Piaček, PLURAL, Magda Stanova, Miessen Studio, Peter Szalay, The Society for Nontrivial Pursuits, Martin Zaiček
Curator: Ivana Rumanová
13.06.2017, Tuesday, 21.00
Summer open-air cinema
Little Harbor

Country of direction: SR / 2017 / 85 min /Slovak language
Tickets: 3.00 / € 2.00 (adults /students)
14.06.2017, Wednesday, 18.00, Nova Synagoga, former office spaces of Tatra Film
Marsel Onisko (UA): Will be there right now. Eugen
The visual project of the Ukrainian artist Marsel Onisko from Uzhhord brings an imaginative story to Mr. Eugene. Pictures of Eugene's life can be seen as road-movie, cartoon or comics. Eugen is an observer, an invisiable man. Surreal to absurd situations make us smile. No one would like to be on Eugen`s place, but part of Eugen is inside of each of us. Marsel Onisko was the artistic chief of the defunct Panic Button magazine along with La Aramis filmmaker from Žilina, as well as a member of the Fly United, Zilina-Uzhorod Association. He studied philology; he is self-taught in art. Since the outbreak of the conflict in the east of Ukraine, he is desighning monthly layouts of posters for the Stanica cultural center.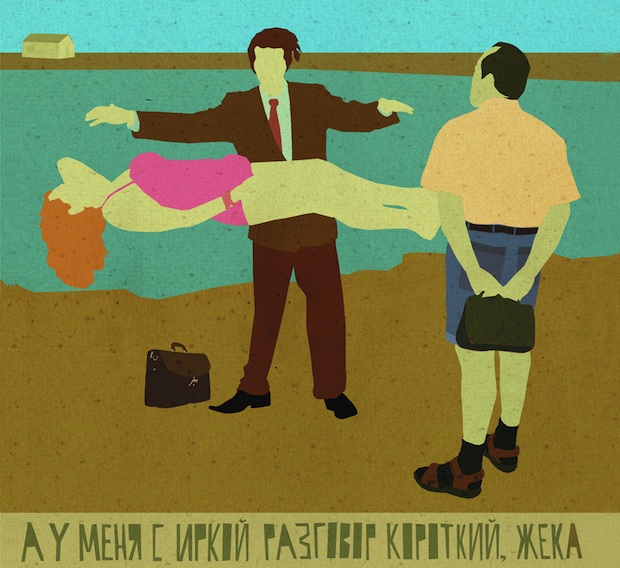 The exhibition will be open also during the Fest Anča festival on June 29 - July 2, 2017. You can "meet" Eugen" at the venue of the festival in the New Synagogue's.
The curator of exhibition is non-curator Robert Blasko.
15.06 and 16.06.2017, Thursday and Friday, 20.00
Fekete Seretlek: Kar
Cabaret, object theater & concert on motifs of Anna Karenina.


During a funeral dinner, in between condolences and the gentle music of a funeral band, instead of farawell with the deceased, (saying goodbye, getting away with him.), the life of the dead starts to reapear. Suddenly, the sounds of glasses change into melodies, moves of waiter dance, cups of tea apper as guests on russian court dance and at the end, spectators themselves become characters from the story of Anna Karenina.
Cabaret of Russian realism states and raises live dramaturgy, livestock, originally processed, built on a basis of Russian traditions.
Tickets: 5.00 / € 3.00 (adults /students)
16.06.2017, Friday, 22.00
Concert: Fekete Seretlek(SLO, CZ)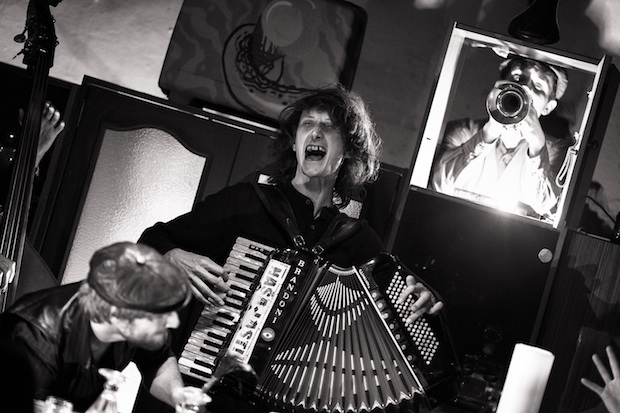 Live music and theater at once. Balkan temperament mixed with folk motives from all around the world. The concert of international group conducted by Matij Solce offers an accordion, violoncello, kontrabass, trumpet, violin, cajon and five voices. Six musicians - graduates of the Academy DAMU in Prague - create live cabaret, every time different, responsive to current situation concert performances. The Czech-Slovak-Slovenian band Fekete Seretlek formed in 2004-05 and is now performing all over Europe.
Entrance is free
17.06.2017, Saturday, 11.00 – 15.00
Petanque tournament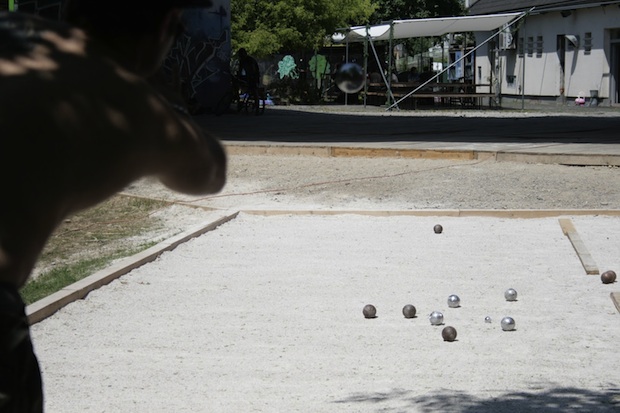 The traditional petanque tournament in the park at Stanica is organized by FRASK (French-Slovak Association). You may register for competition in two-member teams by mail at ozfrask@gmail.com. Like every year, we promise you french refreshments and musical selection.
17.06.2017, Saturday, 18.00
Racine a Coralie
Theater performance by students of GBZA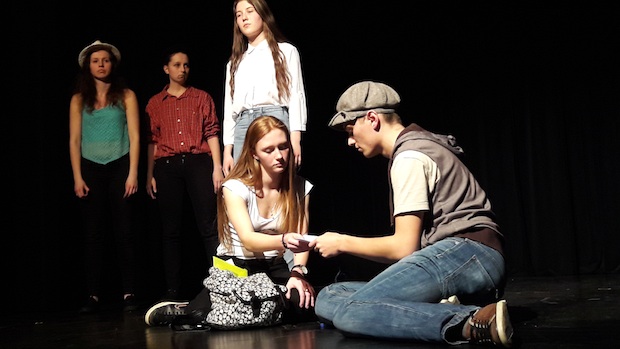 The work of Belgian François Salmon Racine a Coralie blends poetry with current themes. It is a story of two young people, both cultural and geographically verydistant, who meet at the end of a long journey. Coralie is a young Belgian who is preparing for a holiday with her parents every year. Racine is a young migrant who is attempting to cross the Mediterranean Sea. Despite all the pitfalls, they dash the differences and boundaries. The play was created by students of the Bilingual Gymnasium of Zilina under the direction of Silvie Amato and Florian Coheur. The show is in French language.
Free entrance
18.06.2017, Sunday, 10.00-18.00
Do-it-herself handycraft workshop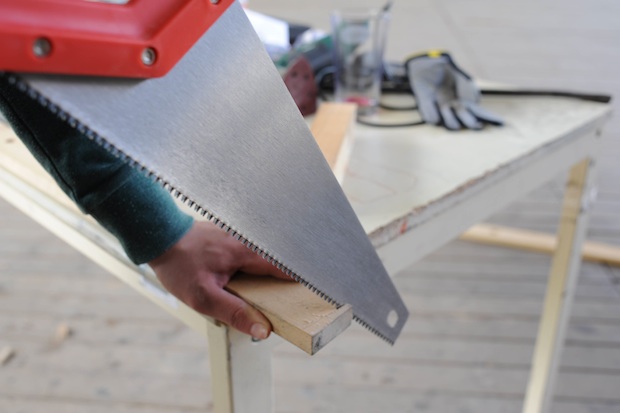 Drill, saw, grinder…. maybe you never worked with it or you just wish you had the space to use it. We will have a workshop where during one day you can learn how to work with electric and manual woodworking tools. Those who are already familiar with it are still welcome to finish their projects/ repair or recycle their old furniture or make something new.
It is open for those who already know how to work with tools as well as the one who never touched a saw before. Main working language of workshop is English
Registration is at nienke@stanica.sk.
18.06.2017, Sunday, 19.00
Traveling cinema with Michal Chmeliar
New Zeland: the greenest and cleanest country of the world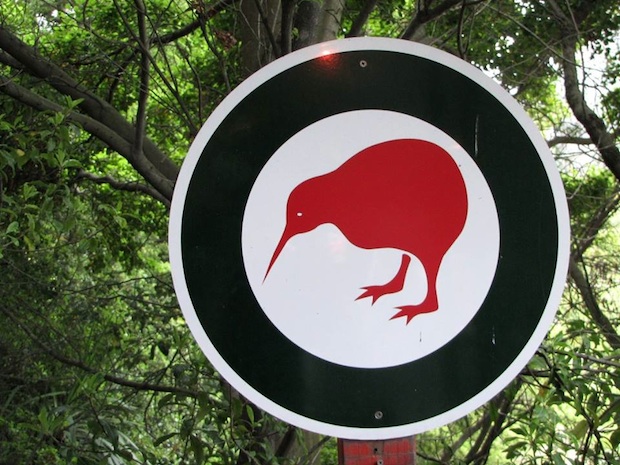 This time we are traveling for long distance. We will cross the country known as Middle-earth, the Hobbit Land, and the legendary land from Lord of the Rings. You will find out the reason why on New Zealand there is no need to switch to daylight saving time and how it is to live in the country where you have to be every day prepared to earthquakes.
Michal`s presentation as usually will contain a lot of new information and facts. About volcanoes, lakes, we will not miss whales, glaciers and the forest. And you might be attracted as well by the excellent lamb, dinosaur trees or wild Mauri, who once upon a time cooked food in hot geysers.
Tickets: 3.00 / € 2.00 (adults /students)
19.06.2017, Monday, 18.00, Nova Synagoga
Lecture by Lukáš Likavčan: Art Institution as Inventory of the Future place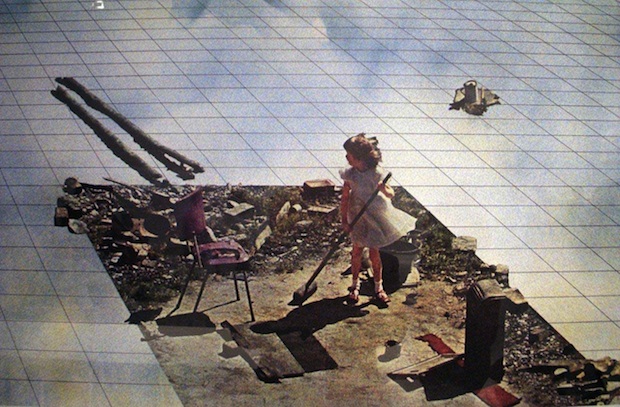 From time to time, individuals or entire communities may find themselves at the edge of thinking - exhaust their vocabulary, encountering some noble or traumatic object under whose weight their comprehension begins to collapse. Such a time reminds of wolves, when old dying and new are not strong enough yet. Lecturer of Lukáš Likavčan, philosopher, on artistic institutions as potential providers of safe space for critical, speculative and experimental practice.
Free entry
20.06.2017, Tuesday, 21.00
Summer open-air cinema: After the Storm

Country of direction: Japan / 2017 / 117 min / Japanese language, Czech subtitles
Tickets: 3.00 / € 2.00 (adults /students)
21.06.2017, Wednesday, 17.00 Nova Synagoga
Commented visit of Working exhibition at Nova Synagoga with curator Ivana Rumanova.
Free entry
21.06.2017, Wednesday, 18.00
Theater performance
Thetherapy: Vlčica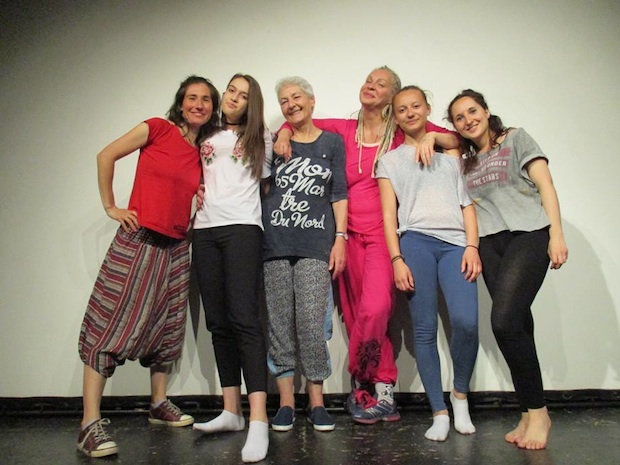 Vlčica is the author's performance of the theatrical group Thetherapia. It tells the story of six women in different stages of life. Capturing the feminine soul through archetypes and symbols. It reaches a subconscious level. Vlcica brings timeless themes and turns attention to the inner world of a person.
Theatrapia is a theater group led by actress Kristina Sihelská from Žilina. It blends theater and therapy.
Entrance is voluntary
22.06.2017, Thursday, 17.30
Piano recital: Pavol Praženica
Our grand piano White Wing leaves Statica to begin a new life in the Nova Synagoga. Before, the young pianist Pavol Praženicawill give a concert to sum up, almost five-year "arc" of solo piano nights. The list of his successes claims the concert you should not miss. And we are especially looking forward to the emergence of a new generation of performers. In the program of Pavlo's performance, the compositions of J. S. Bach, W.A. Mozart, Bedrich Smetana, Sergey Prokofiev and Claude Debussy will be played.
Tickets: 3.00 €
24.06.2017, Saturday, 10.00- 17.00
Small summer market
The last weekend before the summer holidays, for little shopping. This time with the children's counter.
29.6.–2.7.2017,Thursday-Sunday
Fest Anča International Animation Festival, 10th
Fest Anča is an international animation festival in Žilina, Slovakia. Its purpose is to show contemporary, progressive animated films to commemorate the best of the genre's history. The long-term vision is to promote the art of animation and all its forms, filling an empty space in this artform in Slovakia. An international competition for best animated film, student film, music video, best film for kids and best Slovak film – to be selected by an expert panel – will be part of the festival.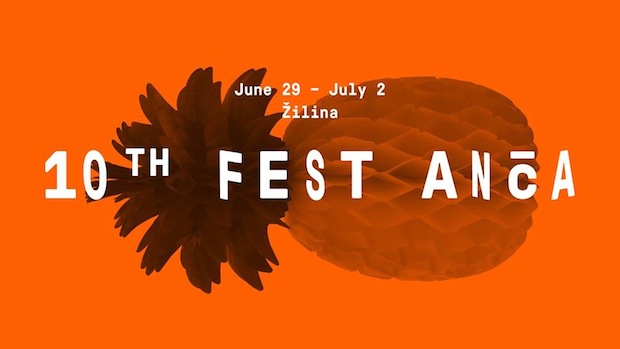 Accompanying events include workshops, exhibitions, lectures, music and chats with filmmakers and producers. The summertime festival atmosphere is supported by a tent city, nighttime screenings and live concerts.To all these prizes Anča made up a new unique competition Audio-animation karaoke battle, which is open to visitors able to creatively dub the accidentally chosen sequence of animation.
Ticket to whole festival (4 days) : € 20.00
Student ticket: € 15.00 (*After showing valid ISIC, ITIC, EURO 26 or valid student card).