Peter Šavel, Kamil Mihalov: Shifts
music and dance performance
Saturday 11th October 2014, 7 pm
Show originally produced at Stanica is comming back after succesfull reprises in several foreign cities (in Belgium, Germany, Czech Republic) but also in Slovak National Theatre.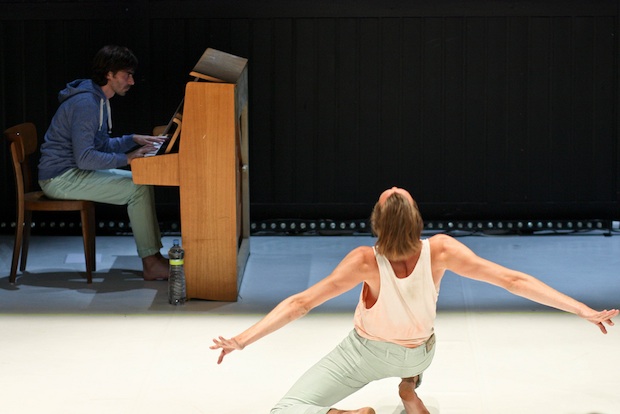 Emotional, moving, dynamic and smart duet of dancer Petr Šavel and pianist Kamil Mihalov. Musical part is created by Goldberg variations of Johann Sebastian Bach, dance part made by Peter Šavel is an interpretation of sorrow and grief. It is a show where music and dance part are playing equal roles and it offers spectator double artistic experience.
Story and choreography: Peter Šavel
Concept: Peter Šavel, Kamil Mihalov
Music: Johann Sebastian Bach: Golbergove Variácie BWV 988; Uri Caine Ensamble – Goldberg Variations (2000)
Scene and costumes: Peter Šavel
Coproduction: Stanica Žilina-Záriečie (Slovakia); STUK Leuven (Belgique); Charleroi Danses, Bruxelles (Belgique)
Admission: 5,00 / 3,00 € (adults / students)
Reservation of tickets: rezervacie@stanica.sk, 0948 344 606
Reserved tickets need to be picked up at least 15 minutes before the start of the event, otherwise it will be released for sale. Thank you for your understanding.