Pódium #2: Multiplace
interactive sound instalation, lecture
Saturday 18. 5. 2013, 18.00, New synagogue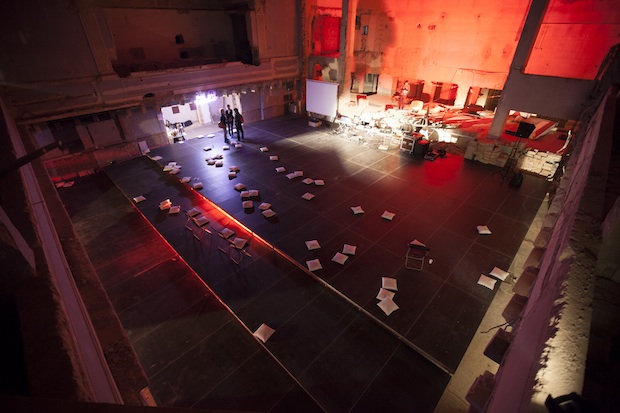 Second night in synagogue on the Pódium of Jakub Kopec will be dedicated to the festival Multiplace, where audience will be introduced to the early history of Slovak electroacoustic music.
Audience will be led to the historical context by lecture of sound master Juraj Ďuriš about Experimental studio of Slovak Radio. Creative approach to sound archive of Experimental studio will present an interactive installation Distributed presence. Duo of English artists - Andy Prior and David Strang - is working with soundtrack of the first Slovak electroacoustic composition Orthogenesis (1966) of composer Jozef Malovec and sound engineer Peter Janík. Contemporary installation in one space is combining two ways of manipulation with material of original composition. Captured movement of the audience in the space is controlling, with its granular synthesis, one sound line. At the same time audience can mix, loop or "dose" the track online.
During the evening, authors of the installation will present, in collaboration with three dancers (Jaro Viňarský, Pavel Zuštiak, Matthew Rogers) live, sound-dancing performance.
The installation Distributed presence was established as a part of European project REMAKE - REthinking Media Art in C(K)ollaborative Environments. In the spaces of New synagogue will last until Tuesday 21. 5. 2013.
18.00, lecture
Juraj Ďuriš: Experimentálne štúdio SRo Bratislava (Experimental studio of Slovak Radio Bratislava)
19.00, interactive sound installation
Andrew Prior, David Strang: Distributed Presence
dance-sound performance, music: Andrew Prior, David Strang, dance: Jaro Viňarský, Pavel Zuštiak, Matthew Rogers
Voluntary admission; all donations will go for the reconstruction of New synagogue.