Ivan Martinka, Staré divadlo Nitra: Palculienka
theater performance
Saturday 13. 4. 2013, 16.00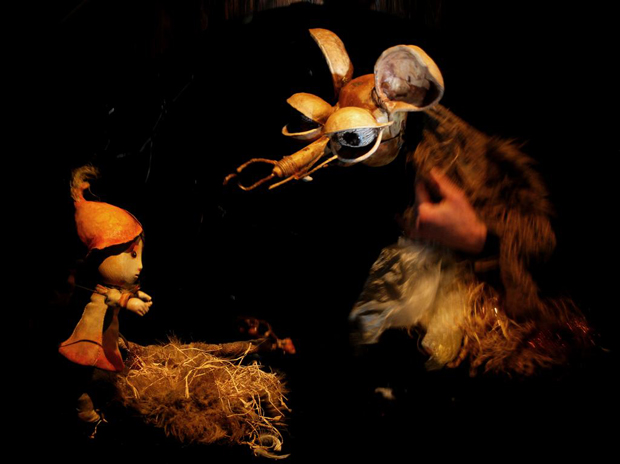 Small girl Palculienka wants to explore the world. While she travels, she intuitively looks for a close being, with which they would understand and love each other. She wants to belong somewhere, to resemble someone. She experiences joyful and difficult moments, she meets with understanding and misunderstanding. By herself, she comes to this, that the most important are understanding and ability to help others, when they are in need, because only then it is possible for real friendship to develop.
This is a tale of finding a real friend, of mutual respect, about ability to help others, even if they are different from us (smaller, taller…).
Palculienka is looking at the world through the lenses of a small child. She is like an unwritten sheet of paper. Everything she meets, for her is new. She knows no danger, so often she comes to the situations that really surprise her… Nevertheless, she is not giving up.
The tale on the motives of H. Ch. Andersen story was studied by Staré divadlo Karola Spišáka in Nitra.
Libretto: Ivan Martinka and Jana Šturdíková
Dramaturgy: Jana Šturdíková a.g.
Scenography and costumes: Eva Farkašová a.g.
Puppets: Martina Fintorová a.g.
Cooperation on the work of puppets: Ivan Martinka a.g.
Music: Andrej Kalinka a.g.
Director: Ivan Martinka a.g.
Playing: 
Lucia Korená alebo Andrea Sabová, Katarína Petrusová, Rudo Kratochvíl, Ivan Martinka a.g.
The performance will take place in the hall S2, it will last for 45 minutes and it is suitable for above 3 year old children.
Entry: 3,00 € / person
Ticket reservation: rezervacie@stanica.sk, 041 - 56 23 564