Jaro Viňarský: Physicality in literature
physical workshop
Saturday – Sunday, 24. – 25. 11. 2012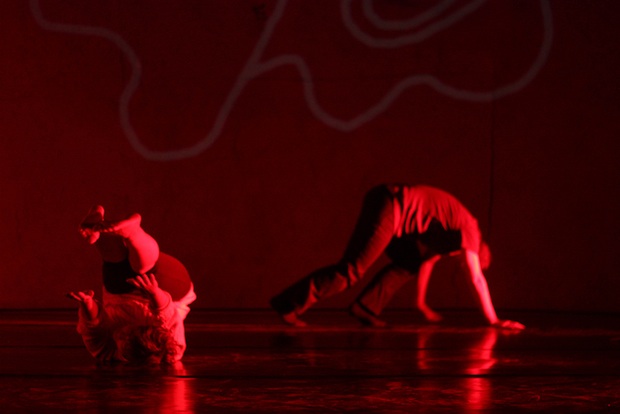 Workshop within 'Priestor pre pohyb' project is connected with production of a dance performance ANIMALINSIDE wherein a literature text is a subject for physical material. The participants will explore borders of body, physicality, movement and dance as a language that is pushed beyond its own rules in limited space.
The workshop is dedicated also to non-dancers or complete beginners.
–
About ANIMALINSIDE project
The performance is being produced in two cultural venues of Slovakia (Stanica Žilina-Záriečie and Záhrada - contemporary culture center) and in Archa Theatre in Czech republic. Part of the project are physical workshops that should establish a platform and space for tighter interaction and dialogue between artists and spectators. The participants can closely see the principles of work within this physical project and partly be part of its creative process.
The project comes from the literature source with title of the same name written by László Krasznahorkai. "For him, the sentence is an act of pure performance - a tense high-wire act, a piece of grave and ambitious vaudeville performed with energy both comic and ironic. But there is also a compacted edge to his prose; he is not interested in language merely for its own sake. Prose for him is a complex vehicle moving through a world both real and surreal with considerable precision and sharpness." - Colm Tóibín writes in the Preface. As if he call himself to the fight. Each of fourteen chapters is a single long sentence with commas and dot in its end. The flow full of rhytmic changes, tempo and images.
The way Krasznahorkai works with the language is similar to a process of a dance creation - mainly working with energy, tempo, rhytm, putting the body into space which creates images that offers spectator insight into the world by words of unexplainable emotions and state of minds. His text proposes direct impulses for working with motion, with the body thrown into time and space.
Info and booking: jarovinarsky@gmail.com
Participation fee: 30.00 / 25.00 € (adults / students)
The participants will be able to sleep directly in Stanica event hall.