Small marketplace
Saturday 28. July 2012, 9am - 7pm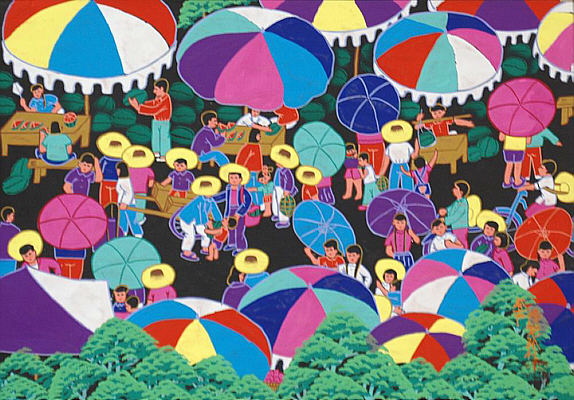 Small market is a place, where you may not only buy fresh fruits and vegetables, taste real drinks, let your bike to be examined, or buy original trinkets, but mainly you´ll see, that it makes sense not only to do good things, but to share them with others as well.
What may you look forward to:
* Anna Dobiašová (a.k.a. Dušan´s mum) with silk scarfs, earrings and hair decors
* ripe and dried fruit from family farm OF Kubra
* Dutch waffles
* fresh roasted coffee from Coffee Sheep
* original pieces of clothing from graphic shop Uutěrky
* fashion jewelry from "i.v. - iné videnie" (other vision)
* farmers from local Slovak gardener union with tasty small fruits
* Magdaléna Dobrava with works from sheep wool and discussion about natural childbirth
* flavoured apple must from Hostětín with Janka from Artforum´s Literature cafe
* plenty of design from fashion shop Parazit
* volunteers of Stanica with their trifles from dirt and wool
* jewelry made of sintered glass, little mirrors and handmade soaps from Zaježová with Helena Vikárová
* homemade jam/jelly from Soňa Adamková
* sale of theatre rarities
* action bicycle lovers from Recykel, who will advise you with your bike problems :-)
* Andrea Zajacová with original jewelrymaking from polymer matter, Art Clay Silver, and minerals
* rag-men with Petra Kočiová
* cow milk and cheese from Dolný Hričov and spelled bread from Viera Manišová
The list is being updated.
Small marketplace will take place in Stanica every month and visitors may everytime find something original, miscellanea and mainly local-produced. The offer will differ depending on actual season. Our unique atmosphere, offered by the market, will be supported by side events - workshops, presentations, counseling and other activities.
Info for people interested in selling their stuff: anna@stanica.sk, 0902 521 366