KioSK 2012: A Performer´s complexity movement workshop Friday - Wednesday, 20. - 25. July 2012
Five-day workshop, focusing on development and cultivation of the performer´s personality, with aim on his physical training, coming from contemporary dance and physical theatre techniques. Five days of intense creative work under the guidance of two significant slovak creators: dancer and choreographer Jaro Viňarský nad actor and director Matej Matejka.
The workshop is consisting of two parts:
1. An intelligent performer´s body, 20. - 23. July, lecturer: Jaro Viňarský
Based on exercises, built on improvisational basis, we´ll try to define the specifics of physical work of an actor, dancer, performer.
Jaro Viňarský (1978)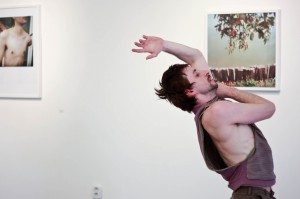 Independent choreographer, dancer and performer. Debuted as a choreographer in 2001 with his solo piece Sorton, which earned second prize on Jarmila Jeřábková´s international choreography competition. In 2006, Jaro von the Sazka Award, and a Czech dance platform Audience Award, for his solo choreography Posledný krok vpred. In 2007, he introduced a featured work - male quartet Paisyn. Since 2004, he cooperates with belgian choreographer Karine Ponties (Mi non sabir, Holeulone, Raven, Humus Vertebra).
This year, Jaro´s working on his new performance - a duet Animalinside. He leads long-term workshops focusing on non-dancers, non-actors and wide public. In 2011, he founded civic association SKOK! (Jump!), for developing contemporary dance and physical theatre scene here in Slovakia.
2. The ritual and physical practices of a performer, 23. - 25. July, lecturer: Matej Matejka
How to keep physical body in a "tuned instrument" state, capable of complex and sharp expressions? By integral involvement of body and mind, the body becomes a shiny reflection of inner thoughts and a a channel for itself. By combining of dance, movement and acting techniques, we´ll try better to understand the connection between the body and the mind of an actor-dancer / performer.
Requirements on participants of Matej Matejka´s workshop:
1. You have to participate on whole 2 days of workshop.
2. The participants will prepare two very short texts, which they will learn word-by-word. These texts are to be learned without any kind of dramatic interpretation and maximum lenght of each text is 5 sentences.
3. A melody, song, or musical instruments are warmly welcome.
Matej Matejka (1978)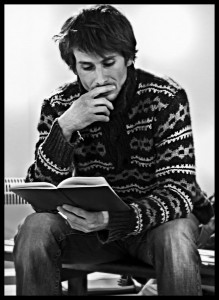 In years 2000 - 2005, he was the member of theatre studios Farma v jeskyni. In 2006, Matej Matejka was nominated on Sazka Award, for the acting-motion interpretation in staging Sclavi. Since 2005, he co-works with The Grotowski Institute on researching physical expressions in theatre.
Matej Matejka is one of main actors, and the leader of physical training in theatre group Teatr Zar. In 2010, he founded Matejka Studios, with endorsement of Grotowski Institute in Wroclaw, Poland, where he as a director and pedagogue, focuses on actor´s body expression research onstage, and in film media.
In his works, he seeks the way, where dance and drama are equal performer´s expression carriers.

Participation fee: 50,00 / 40,00 € (adults / students)
A permanent ticket on festival KioSK 2012 (26. - 28. July 2012). included.
Registration: jarovinarsky@gmail.com
Registration deadline: 15. 7. 2012
We priorize participants registrated for all five days of workshop, and whole festival KioSK 2012.
Maximum number of participants: 15
Registration for the workshop is stopped because of capacity filled! Thanks for understanding.