Urban Rural
bee nest´ making workshop
Saturday 2. June 2012, 2pm - 6pm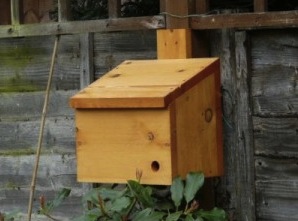 The afternoon meeting at the park near Stanica will be oriented on insects and wind. Within a short workshop, we´ll manufacture čmelín-s - simple and practical shelters for bumblebees, suitable to every garden; and plant various melliferous plants, as a contribution to joyful coexistence with the insects in the city.
Participants will be introduced to an installation called Windtime, which was made as a record and a result of march band festival in Hranice u Malče in October 2011. You can bring your own musical instruments, and become a part of the installation, and play in the rhythm of the wind. The garden happenings will be recorded in the rhythm of wind, by Wind Box. We´ll play the footage from the Windtime installation and Wind Box, in the evening.
The lecturers will come from highlands - a culture centre Kravín in the village Hranice u Malče.
The evening will continue after 8pm with the open-air performance Compagnie En Croq (Fr): Funky Pudding.