Compagnie En Croq (Fr): Funky Pudding
open-air theatre performance
Saturday 2. June 2012, 8pm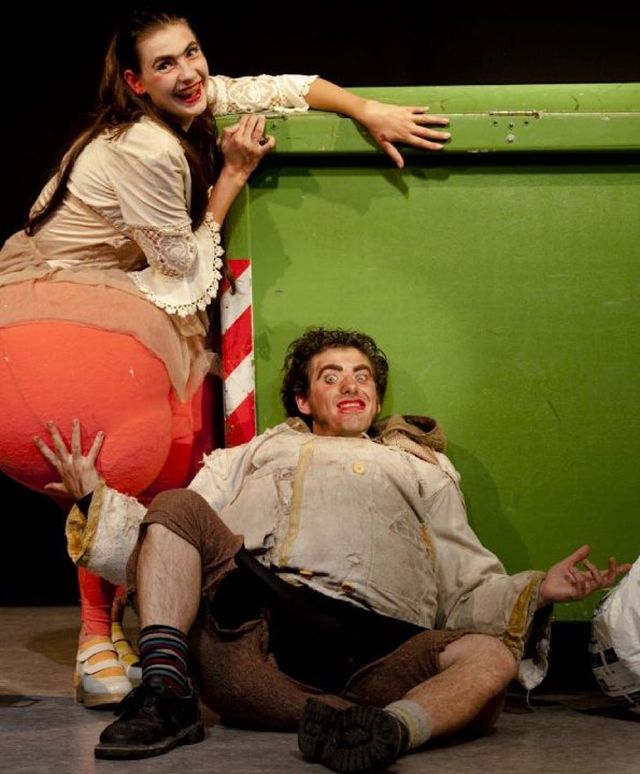 A show with elements of commedia dell'arte, grotesque and drama is an ironical approach to consumption and western civilization, which lives in own bubble. It shows an idiomatic ballance, which we created between individuals and society as a whole, people and surfeit, people and garbage. Interactive and grateful performance is uncommonly committed to enviromental and social issues.
Big Mac (Luigi Ciotta) and Marilyn (Aurélia Dedieu) are two court clowns, who live in a trash bin. They gradually speak-up situations, refering to various stereotypes of life in a relationship. They live from everything they find on the street, therefore they can afford wasting - yet they "still have enough". Working with spoofs and satire, the actors refer to consequences of excessive, egocentric and shallow way of living of a certain social sphere. Rolling in an endless circle of commerce, production, advertisement, purchase and sale, which cannot be abandoned.
The performance is in english language and we introduce it as an open-air happening, in outer grounds of Stanica.
Admission: 5,00 / 3,00 € (adults / students)
Ticket reservations: rezervacie@stanica.sk, 041 - 56 23 564