Mr. Carrot: Bugger Animals
scenical reading for children
Saturday 24 March 2012, 4pm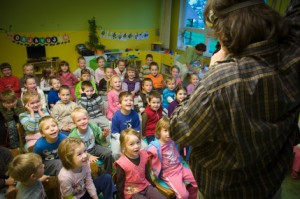 What happens when you watch theatrically performed story of a book, you fall in love with its main characters, you spend few funny-beautiful adventures and then they tell you: 
"I am truly sorry but we don't have time to read you nothing more…"? You want to shout - "More!"? 
Or you might start feeling like taking a book by yourself and start reading?
In March which used to be the "Month of the Book", we will introduce Mr. Carrot (for the first time in Stanica) for children but also their parents and teachers. Mr. Carrot is making and performing pieces based on quality children literature - everything with an aim to initiate hunger for reading good books.
Amusing performative fairytale reading by Alois Mikulka, Arnold Lobel and Erich Groch is dedicated (especially) for kids from 5 to 9 years of age. The reading is available also for smaller children but keep on mind they might have troubles concentrating for the whole performance. The reading takes 45 minutes.
Entry: 1 child - 2.00 €, 2 and more kids - 1.00 € / child, free entry for adult accompanist
You can find photos on our flickr account HERE.