From the Body's point of view
KioSK 2011: workshop
Friday – Wenesday, 22nd - 27th July 2011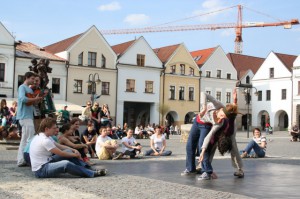 The workshop initiates a long-term project of informal training in the field of physical performance and body work by means of contemporary dance elements. It is open for non-dancers (public), professional dancers as well as actors and other professional artists who do not primarily work with the human body and movement, and would like to manifest this dimension through artistic expression.
The work itself will comprise Pilates training led by a qualified pedagogue Matthew Rogers (USA), and experiential learning workshop will be led by Jaro Viňarský. Zuzana Burianová will be focusing on dance peculiarities in front of the camera, and theoretical forums will be moderated by theatre and dance journalist Nina Vangeli.
Info and application: martina@stanica.sk, 0907 497 481
Participation fee: 35,00 / 25,00 € (adults / students), KioSK 2011 festival pass included
There are just few places left for KioSK workshops and last days for applying are almost over. Deadline for applying is on July 11, 2011 (Monday). The capacity of the workshops is limited by the number of participants (25 people).