Our town 2011 – Our Žilina
Company volunteers in Action
Friday – Saturday, June 17-18, 2011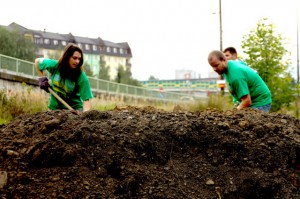 Within Our Žilina event, we have cleaned the park under Rondel twice so far. Now it's time to go one step further – this year's workshop topic concerns alternative mobiliari and other attractions, which will be installed into a ready-made park within two days' time with the help of volunteers from local companies. They will thus exchange their offices for volunteering for the sake of not-for-profit organizations in Žilina. If you'd like to volunteer as well, please check the list of activities in town during the day and feel free to apply. Event Our Town takes place also in Bratislava, Kosice and Galanta.