Jana Farmanová: Train-like pictures
exhibition
April 8 - 30, 2011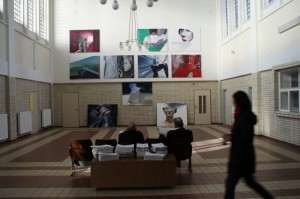 Curation by: Ivana Moncoľová
Paintings inspired by photographs and films created by Jana Farmanová. "These are the film scenes, in which a motif of train appears. I knew from the very start that my paintings would be shown at Stanica. This made me come up with an idea of creating something emotionally linked with trains, saying goodbyes, arrivals and departures." The paintings were created in Banska Stiavnica within residency program in an artistic centre Banska Stanica.
Jana Faramanova comes from Nitra, where she lives and works. She graduated from The Academy of Fine Arts in Bratislava. She's a strictly orthodox painter, looking for the past – present – future within a moment – HERE and NOW.
Exhibition will last until Sunday, May 1, 2011, Gallery open daily from 12.00 to 8pm.
www.janafarmanova.com
www.banskastanica.sk
Free entry.