Christmas Sale at Stanica
Monday – Thursday, December 20. – 23, 2010, 12pm – 8pm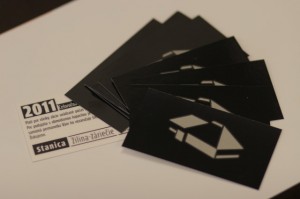 Christmas fair, second-hand store, exchange, or just chilling-out accompanied with drinks and songs. The main puller of improvised shop is a yearly pass for all events at Stanica in 2011 in a gift package together with new Stanica T-shirt, and also newly produced DVD Stories from Stanica with short animated films from our children workshops and one documentary from the opening of Stanica in 2003. In the gallery/second-hand store, you'll find many other interesting things. Books, CDs, some pieces of art and other things collected in Stanica all through the years. Other things you can get for free are in store as well. Free space provided for all artists and designers, who come from Žilina, and would like to sell their works of art, and thus cheer up the shopping bags of all the desperate Xmas buyers. Everyone willing to sell and/or exchange goods, please contact info@stanica.sk, or call directly +421907137145.