KioSK festival of independent
contemporary theatre and dance
23. - 25. 7. 2010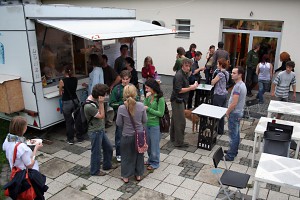 Festival for the daring spectator
HOME (freelancers on the Slovak scene)
vs.
GUEST (Slovaks in foreign leagues)
KioSK 2010 presents contemporary productions from the Slovak independent theatre and dance scene. The third edition offers program for the demanding spectator, and is linked with summery atmosphere, informal meetings, creative workshops, working sessions, after parties and camping under Rondel bridge near Stanica…
KioSK dramaturgy focuses on spectator and theatre, which is on a quest. News on the KioSK's "desk" include projects of Slovak artists living and working abroad. This non-ordinary "import" was caused by a specitific phenomenon of the Slovak performing scene – ratio of artists-expatriates, mainly dancers, in comparison with domestic community. KioSK scores 5:3. Yet it is not meant to be a competition but enrichment, exchange, and mutually inspiring encounter.
It is this topic of emigration which is explored by American Slovak Pavel Zuštiak from New York in his dance project The Painted Bird/Bastard, premiered at KioSK. In addition, it is Eva Klimáčková and her cie E7KA with performance Ivanuska, , and provocative performance by Milan Loviška, dancer and student of psychology in Prague (My Art: Who's Frank?).  duet by Peter Šavel and Stanislav Dobák, students of prestigious school P.A.R.T.S. in Brussels (One for you, two for me)
Also, those not giving it up in Slovakia will also be given space to present themselves. Despite difficult circumstances, they can still create and come up with original theatrical concepts in our context. Cult theatre SkRAT on its way of searching for new poetics (Rests), tandem Mio-Mio (Marek Piaček and Stanislav Beňačka) with their "instant operas" called Zbojníci and Malevich-Malevich, and Theatre from the Passage with their fresh movement-visual performance, made in cooperation with dancer Jaro Vinarsky. Besides all that, talkshows with artists, film projections, installations, and meeting of the Slovak dance scene.
Note: Looking for the daring spectator. Offering adventure of collective search for "other" theatre. Offering our view. Interested in yours.
Festival Program:
THURSDAY, July, 22
20.00, S2
Palissimo (USA,_SK): The Painted Bird/Bastard (pre-view)
21.30, garden, party
dj 7 Minutes (nu jazz)
FRIDAY, July 23
18.00, S1
cie E7KA - Eva Klimáčková (SK_FR): Ivanuška
"…..Body as a house, in which dance lives with its own movement vocabulary. Visiting these deserted, ruined houses is worth in order to smell the ruins and emptiness, to touch the unknown past, which remains within us. Getting closer to the phantoms of oblivion and gentle madness… "
Project  Ivanuška is a form of dance, music and graphic performance, inspired by Art Brut and Art Naïf. Objects, as well as dance and music, are produced from materials, and remains of unused things with no significance nor value. By method of surreal collage, the world is being created in an unexpected version, the world in itself, poetry reversed, the world real-unreal, slightly and funnily turned upside down, the world which is slipping away with its own logic, rules, obsessions and rituals. Being free to get lost, we are still looking for precise and definable chaos, chaos which is dynamic, constantly constructed and deconstructed.
Eva Klimáčková, dancer, teacher, choreographer; after graduation at the Academy of Performing Arts in Bratislava, she worked one season in Dance Studio in Banska Bystrica.
Since 2001, she's been working in Paris, collaborating on projects with various choreographers, actors, musicians, painters and circus artists. Currently, she's working with Kubilai Khan Investigations (FR) group and Karine Ponties (Brussels). In 2007, she founded "E7KA" in Paris, and has produced performances "Alžbeta Hluchá",  "Alžbeta",  "Ivanuska".
After performance:
Arnošt Krysařík After show  – talkshow of choreographer and dancer Tomáš Krivošík with Eva Klimáčková. Artists in the eyes of artist. Quite anew.
20.00, S2
Palissimo (SK_USA): The Painted Bird / Bastard (1. part)  premiere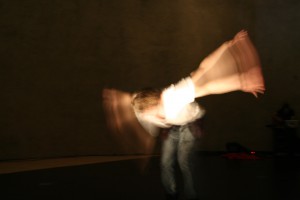 Bastard is the first part of trilogy The Painted Bird, which explores the issues of uprootedness, transformation and "otherness".
Solo dance project Bastard is inspired by a controversial novella by Jerzy Kosiński The Painted Bird from 1956.  In one of the chapters, the main character meets a man who, out of his rage, paints a little bird's feathers and releases it back to the flock. The bird is seen as an alien, and thus pecked to death by others.
What does it mean to live in exile? How does exile affect the one? How is the one re-formed? What is exile? When does it end? What is the difference between refugee, expatriot, deportee, emigrant? What is the difference between those who moved with their roots, and those who are left with no roots at all? Does not each of us live beyond borders in one way or another?
The Painted Bird is American-Slovak-Polish coproduction. Choreographer and director Pavel Zuštiak, living in New York, joined forces with Slovak dancer Jaro Vinarsky and music composer Christian Frederickson from the US. As in the previous works, his specific poetics is traceable in this performance as well: mysterious, multi-layered surreal images charged with emotional power.
Pavel Zuštiak, born in Košice, is a choreographer and sound designer living in New York. He graduated at the University of Economics in Košice, and studied dance composition and production in Canada and Amsterdam (School for New Dance Development). In New York 2003, he founded dance theatre PALISSIMO, in which he works as an artistic director, director and choreographer. He was awarded Prince Grace Foundation Residency Award and Princess Grace Choreography Award (2007). www.palissimo.com
21.30, garden
The Happy New Ends (Cz, Pl), dj Róbert Zeleňák
www.myspace.com/thehappynewends
www.myspace.com/robertzelenak
SATURDAY, July 24
Slovak dancer and choreographer Jaro Viňarský initiates meeting of Slovak professional dance scene representatives. After creating web page (http://slovakcontemporarydancescene.ning.com/), this meeting is a next step in formalizing dance community in Slovakia. At the meeting, he will present his vision of development of contemporary Slovak dance, and comment on what can be done to improve conditions for creation and mobility of dance productions around Slovakia and abroad, what kind of cooperation could be fostered within East-European cultural space etc. Guests from New Web, Czech Republic, and representatives of organization for development of contemporary dance in Lithuania – Lihuanian Dance Information Centre, are invited.
11:00, gallery
Meeting of Slovak Dance Community
15.00, S1
Squits and Nymphomaniacs – Flashback show
Theatre-film retrocomedy (35 min.) about searching for an artistic vision in post-socialist chaos. Live spots with intervals of five years.
Huysmans and amarylis, sexual dream, Czech lion film nominations, nice blue toilet bowl, sex in public space, shrinked underwear from Bordeaux and waiting. All this and more can be found in theatre film Squits and Nymphomaniacs, which depicts the life of artists community waiting decades to kick off. Through old-fashioned topics and expressing means, the film reflects the world of surviving values of pre-November society, Czech culture and language as its inherent part.
Script: Anna Grusková, Ingrid Hrubaničová, Vlado Zboroň
Slovak and Czech language, English subtitles.
17.00, gallery / S1
Mio -  Mio (Beňačka & Piaček, SK): Malevich – Malevich & Bandits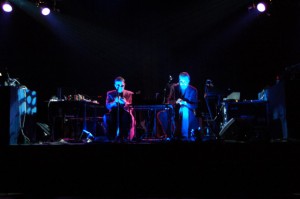 Malevich-Malevich is an instant chamber opera inspired by the work of Kazimir Malevich, and was produced within project Supremalevich in November 2009. It can be seen as transmutation of essential ideas of suprematism into sonic and theatrical form.
Opera was broadcast live, streaming from a small flat in Bratislava into concert hall in Dessau, in which some passages were projected onto the big screen.
Condensed libretto of instant chamber opera Zbojníci is based on the crucial scenes of Giuseppe Verdi and Andreu Maffei's opera, written according to Schiller's Bandits. In performance, the most modern methods are used – softwares and devices – e.g.  reading software, Clanger Theremin, effect processors (Zoom H4, Zoom 9002), mobile mini-devices (Nokia N81, Mio P560, Asus Eee), mass scenes created by multi-lingual GPS navigation, and other.
Mio-Mio, two learned Slovak artists, nicknamed Woofer and Tweeter, use special software Clanger Theremin for their performances. They create sound with the aid of small hardware devices Mio DigiWalker P560. Glissandos are characteristic feature of their pieces – whereas Woofer specializes in frequency scale of 20-200 Hz and Tweeter 201-20000 Hz.
www.myspace.com/miomio2008
http://www.marekpiacek.sk/mio-mio
19.00, S2
Divadlo SkRAT (SK):  Remains
Play about persistent attempt for statement, search for new understanding, something unexpected, unheard of, but also about who is loved by camera, and how good live relationship works.
In the latest theatre piece by SkRAT, two lines of creative methods merge – theatre of images (Mŕtve duše) and text-based theatre with their typical, tragicomic and "kitchen-like" mundane poetics.
"It is as if theatremakers were drawing attention to the remains of meanings, words, feelings, emotions. As if they were trying to emphasize that the remains, which can stand for fragments, are interesting. That they speak of many things. That the remains speak of the former whole…" (Juraj Šebesta, IStheatre)
Independent theatre SkRAT has become a cult theatre thanks to its unique poetics, playscript and the troupe members. It is a kind of devised theatre, working with their own issues and texts, emerging in rehearsals. Apart from two directors (Ľubomír Burgr and Dušan Vicen), actors are often co-authors. Activities of Theatre SkRAT are linked with Contemporary Opera Association, which was founded in 2000. As one of the co-founders of Associations A4, it has its home scene in centre for contemporary art A4 – zero space in Bratislava.
www.skrat.info
21.00, S1
Theatre from the Passage and Jaro SPRING Viňarský (SK_BE):  3 x (A)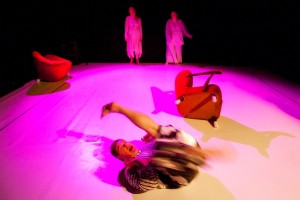 A – as the first letter of the alphabet
A – as the first element
A – as the first cause
Picasso once said "I am not looking for – I find". It is in this manner that the performance 3 x (A) by Theatre from the Passage is (being) made. Its actors (dancers) often declare their natural relationship to movement and contemporary dance through intimate experience. Danka through the story of a lemon canary, Hudy through the jungle when realizing the man's world and own feelings, resonating with this world, Trentor through looking for the ways how to hug – "in what other way can one hug, can one feel one another?", Ľubka and Michal search for the ways to get closer to each other. Three times (A) stands for an endless thread of possibilities how to express oneself.
Theatre from the Passage is a professional community theatre, which is the only one working with mentally handicapped people. By means of its activities, it links the cultural, artistic and social spheres. Since 1995, it has existed as civil association based in Banska Bystrica, in 2005, it was part of Theatre Institute (under the umbrella of the Ministry of Culture), and nowadays, it is a municipal theatre. So far, the group has produced 15 performances, made a feature film and several documentaries, created their own system of education for mentally handicapped people. With their performance Protected territory, they toured the US in 2009. They organize International theatre festival Arteterapia. 3 x (A) is their first cooperation with dancer Jaro Viňarský.
Jaro Viňarský, dancer and choreographer, is one of the few "returned". He worked in Prague and Brussels (cooperation with choreographer Karine Ponties), currently living and working in Slovakia. In 2001 and 2002, he won second place at Jarmila Jerabkova contemporary dance choreographers' competition (Sorton, Nikdy nezaliaty čaj). In 2006, he was awarded the Audience Prize at the Czech Dance Platform, and the Sazka Prize for "Discovery in Dance".
http://www.divadlozpasaze.sk/www/3xA.html
Arnošt Krysařík after show with actors from Theatre from the Passage.
22.30, záhrada
Kasioboy (SK), dj Vili:am
www.myspace.com/kasioboy
www.myspace.com/papajaboy
SUNDAY, July 25
11:00 – 13.00, gallery
Program Grundtvig: Learning partnerships – meeting
14.00
Cultural picnic under Rondel – meeting of artists and representatives of cultural centres from Slovakia and abroad, presentation of projects, exchanging ideas
15.00, S1, projections
Documentary on Aleš Votava: Walls are high and thick (documentary, directed by Juraj Johanides, English subtitles, 100 min.)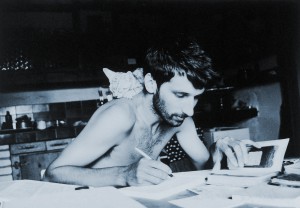 Documentary on Aleš Votava, who deceased premature (3. 8. 1962 - 8. 5. 2001), and who enrinched the Slovak artistic scene with his inventive spirit. Aleš Votava was extraordinarily hard-working. He died aged 38, yet until that time he made scenographies to 51 classic theatre performances, 29 operas, 13 ballet performances and 12 for Theatre GunaGU. He had 13 exhibitions, and was awarded 4 times the Prize DOSKY for the best performance of the season in Slovakia, and once the Czech Prize of Alfred Radok. He designed scenes for professional theatre in Slovakia, Czech, Hungary and Italy. His works got the Slovak scenography closer to the world trends.
By means of Votava's graphic works, spectators can have a glimpse into the life of this unique personality, into the world of his beloved opera and theatre as such, and to go through his childhood, adolescence, lovers up to his premature death. Film does not avoid mentioning the difficult times of search for one's identity, the times of (non)collaboration with the former regime. Several well-known personalities of the Slovak and foreign cultural scene are interviewed, and talk about their relationship to Aleš as a friend and a colleague. These are Martin Huba, Milan Čorba, Dagmar Poláčková, Vladimír Morávek, Gintaras Varnas, Roman Polák and many others.
17.00, S2
Milan Loviška (SK_CZ): My Art: Who´s Frank?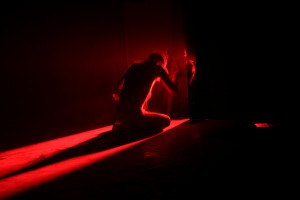 An avantgard and egocentric cabaret show that has been decadently emptied! Popculture as a source for an individual's identity. Reflection on ego-industry.
Performance reflects the impact of popculture and consumer society life style on one's own personality. People today, being attacked by media and information freedom, can only hardly find an answers to questions such as: "Who am I?", "Who do I want to be?", "Who can I actually become?". Ego, its power and size, is the only value… MyART: Who's Frank is a multigenre performance transgressing the form of contemporary dance theatre and the aesthetics of contemporary dance. Apart from dance or music, the creator works with text and object, and puts emphasis on an artistic visual side.
Milan Loviška is a Slovak dancer and choreographer living in Prague. He graduated at dance conservatory Duncan Centre in Prague, studying contemporary dance and dance theatre. During this time, he spent his study period at School for New Dance Development in Amsterdam. Currently, he is about to graduate from psychology at the Faculty of Philosophy, Charles University in Prague.
18.00, S1
Katarína Rampáčková (SK_CZ), Lea de Toffol (CH): Lonely Bones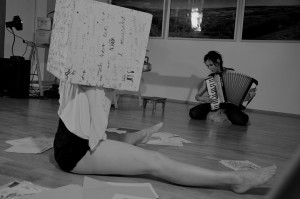 Two women walking on the road of loneliness in parallel worlds.
Unexpected encounters, sudden partings, fragility of being.
Dance theatre performance, in which the border between human naivity and the real cruel world is depicted by means of movement, poetry and music. Restless performance is charged with unclarity, shadow, something veiled, which requires the spectator to follow the (un)plot. with no physical interaction, it requires the mental one. Constant attractions, and stimuli, agressive and poetic, force the spectator to be present, to be aware and perceptive. Performance depicts loneliness in its various forms, poetic, playful, alienated, circus, mundane… Once seen as solitude, other times as freedom. No measures, no judgements. Just solitude as such. Solitude, which has been here ever since, and always will be.
Katarína Rampáčková and Lea de Toffol graduated from physical acting at Swiss school Scuola Teatro Dimitri. Before that, Katarína Rampáčková graduated from bachelor's degree in acting at the Academy of Arts in Banska Bystrica. Currently, she is living and working in Prague as choregraphers and dance teacher. Lea De Toffol studied movement pedagogy in Switzerland, later worked in German theatre Postupime as costume/scene designer assistent. Currently, she is working on various theatre projects.
19.00, S2
Stanislav Dobák, Peter Šavel (SK_BE): One for you, two for me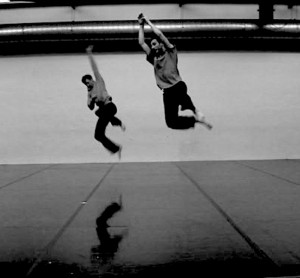 Dance performance, which explores the space of interpersonal relationship, its field lines, games, borders. The black hole on stage, barking at the beginning, two lights, two dancers in emptiness, large space.
How can we interconnect our ideas? Where is the border between agreement and disagreement? We try to translate our questions into the physical level, which is the main focus of our creative work. A constant shift between you and me. You and us, me and me and him and you and me and him… I challenge you, you challenge me. Even if I don't like it,  will I still do it for you? Do it for us?
"Personal things are personal, so don't ask us anything personal, because we don't take it personal."
Peter Šavel from Nitra and Stanislav Dobák from Poprad are fresh graduates at Brussel's school P.A.R.T.S. (The Performing Arts Research and Training Studios), finishing the second study cycle focused on research and authorial creation.
Arnošt Krysařík After show with dancers – Peter Šavel, Stanislav Dobák, Katarína Rampáčková and Lea de Tofol
Most of the performance are without words or English friendly.
Admission:
Single performance: 3,50 / 2,00 €
Festival pass: 10,00 / 6,00 €
Tickets booking: rezervacie@stanica.sk, 041 - 56 23 564