BarCamp Žilina 2
Saturday 15. 5. 2010, 11.00 – 19.00
IT conference (Stanica_FLUX)
BarCamp is an international network of open conferences and workshops. The subject matter of BarCamp is each time formed by participants themselves, usually it concerns new applications and trends on the internet related to technologic development. BarCamp Slovakia is an organization which joins Slovak professionals in the field of technology and internet. Those who work in well-established companies as well as those who can make bricks without straw alone. Come and join lectures, meetings and discussions for lovers of information technology.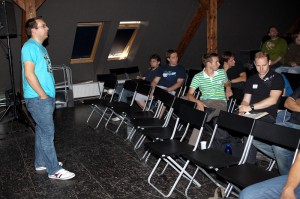 IT Jam Session, and tombola to support hosting organization - Stanica.
Language version: in Slovak only
Free entry.
2 Comments