Mutabooks
exhibition 31. 3. - 30. 4. 2010
(Stanica_CLUB)
Dora Dutková , Martin Kubát, Iva Skřivánková, Pavel Kahotska, Silvie Vavřinová, David Hřivňacký, Sylvie Kořánková, Daria Čančíková, Petr Korunka, Alena Drahokoupilová, Kateřina Šáchová, Pavla Byrtusová a Martin Krkošek (all Cz, the last two also as curators)
Exhibition which presents contemporary book illustrations in various forms. All artists have two things in common – the country of origin (the Czech Republic), and affinity with Box journal. Box originated as a result of joint activity of graduates at VŠUP in Prague. Through this collection, they are continually liberating themselves from the right track of illustration, trying to stay open for much wider experimental field – ring. Ring that is designed for box. Free space, in which they mostly try out different forms of expression on a chosen topic. No limits. So much that you may even witness the collection wrapped up in a snack bag. Apart from classical illustration, one can expect free graphic, posters, animations, or mechanical objects a la music box.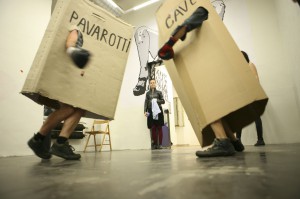 foto Jan Faukner
www.koprbooks.org
www.ivaskrivankova.cz
www.sylviekorankova.com
www.myspace.com/pavel_kahotska
www.baobab-books.net
www.papelote.cz
Exhibition lasts until the end of April.
Admission Free.