Dance, Dance!
Weekend of contemporary dance
Friday-Sunday, 25. – 27. 4. 2014
Like previous years, we won't let this International Day of Dance (29.4) go without dance celebrations. Under the slogan Dance, dance! we offer different options for getting to dance more. It doesn't matter whether you're a professional, child, beginner or inexperienced dancer. Along with the civic association SKOK! (JUMP!) we've prepared a program in which everyone can participate, either actively or just to watch. This year focuses on a combination of dance and live music, all with a healthy dose of improvisation.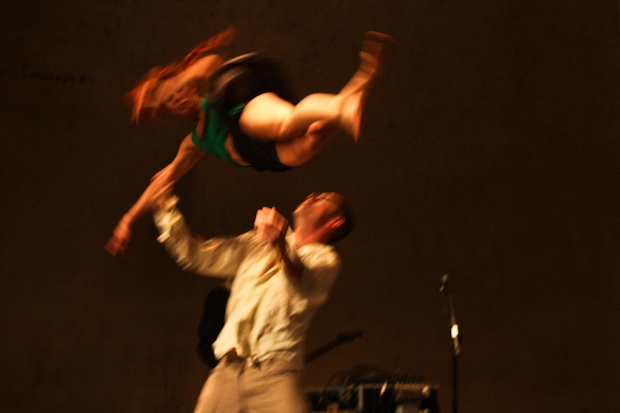 25.4, Friday , 19:00
Music and dance performances.
Zuna and Maok: For Gaia
Dance/music performance for our Earth. Well-known Slovak dancer and experienced improvisationalist Zuna meets the phenomenal musician and excellent improviser Maok for a joint performance to thank and pay homage to our planet. The performance is pure improvisation, utilizing the power of the present moment .
Dance: Zuna Vesan; Music: Maok
26-27.4, Saturday and Sunday
Motion Workshop
Zuna Vesan: Dýchajúce kosti
Zuna Vesan: Steeped in Bone
The skeleton is the deepest and most solid structure in our body. It is the basis of our life and movement. Through improvisation and physical empowerment, workshop participants will work on understanding the mechanism of this structural support and learn how their bodies can benefit from a balance of power not only in dance, but also in everyday life .
Organization of the program of informal education by WorkshoW in cooperation with SKOK!.
Info and sign-up at: workshow@physicalarts-sk.com
26.4, Saturday, 17:00
Performance for children
Theatre Dance Studio: Touch Dance
Cheerful and playful show for children in which not only the performers dance, but children from the audience are invited to dance with them. The presentation is always different, new, just like every other day in the life of a child.
Directed by Zuzana Hajkova and Daniel Raček; Performance by dancers of Theatre Dance Studio
27.4, Sunday, 17:00
Evening music/dance improvisation
Meeting #2
"Meet" is a platform for dancers/performers and musicians to arrange various, improvisational collaborations on stage in front of the viewers. In the first part of the evening a pair will be randomly selected to perform (one dancer + one musician), and in the second part all the dancers and musicians will perform together.
If you are interested in participating in the event, contact anuuusik@gmail.com (Anna Čonková). You should have previous experience with music or dance on stage.