Inside-Aut
Alexandra Borsíková, Miro Kohút, Peter Homola
exhibition, February 7 - 26, 2011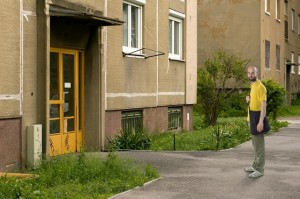 The exhibition explores the topic of autism. The authors are three young artists – Peter Homola, Alexandra Borsíkova and Miro Kohút (Katarína Trnovská – the curator). The Project Inside Out was initiated by The Andreas Centre in order to introduce this topic through contemporary art.
The authors do not intend to take photos of sick people nor tap into community art. Sensitively enough, they are entering everyday life of autistic people, in which the concept of experience is being challenged. While the whole range of autistic symptoms cannot be diagnosed as relating to "typical" autism, the same applies to artistic expressions, which collide with subtle photographs and public environment in the form of performance, interactive installation or video.
Exhibition lasts until Sunday, February 27, 2011.
Gallery is open daily from 12 to 8pm. Free entry.
www.peterhomola.sk
www.andreas.sk
www.f84.sk

photo: dusand