Memory Kontrol:
Victims and Heroes (1939 – 1945)
festival, November 18-20, 2010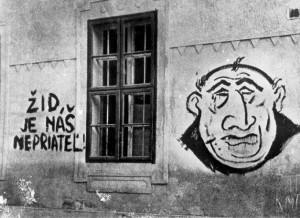 Memory Kontrol is an intellectual workshop and festival which reflects some selected events from the recent (Czecho)Slovak history. It unites historians-theoreticians and artistic events. Last years, we were focusing on 1968 and 1989 events. This time, the focus is on Victims and heroes from World War II – The Jews deported from the Slovak national state and partisans fighting against fascism during the Slovak National Uprising.
The program is starting on Thursday with exhibitions photographers Šymon Kliman and Jaroslav Žiak, both documenting recently soldiers and partisans who have fighted 65 years ago against fascism, site-specific graphic installation of another artist Svätopluk Mikyta, documentation of the intervention of young designers on the monument of 1st Czechoslovak Army on Polom and screening of photos collected from the Fascist Slovak State propaganda materials, published recently in a book by Bohunka Koklesová. The same day prominent historicians František Cséfalvay (Army History Institute), Ivan Kamenec (History Institute of SAV), Martin Lacko (Institute of Memory of the Nation) a Peter Štanský (State Archive in Žilina) will discuss about deportation of Jews and Slovak National Uprising, especially in the local context of the region. Friday evening is dedicated to the great theatre performance Tiso by Arena Theatre from Bratislava, talking about the president of the Slovak State Dr. Jozef Tiso (performed by Marián Labuda). Saturday evening we prepared screening of great documentary movies - I Have Financed the Slovak National Uprising (Alois Ditrich, 2004) and Love Your Neighbor (Dušan Hudec, 2004).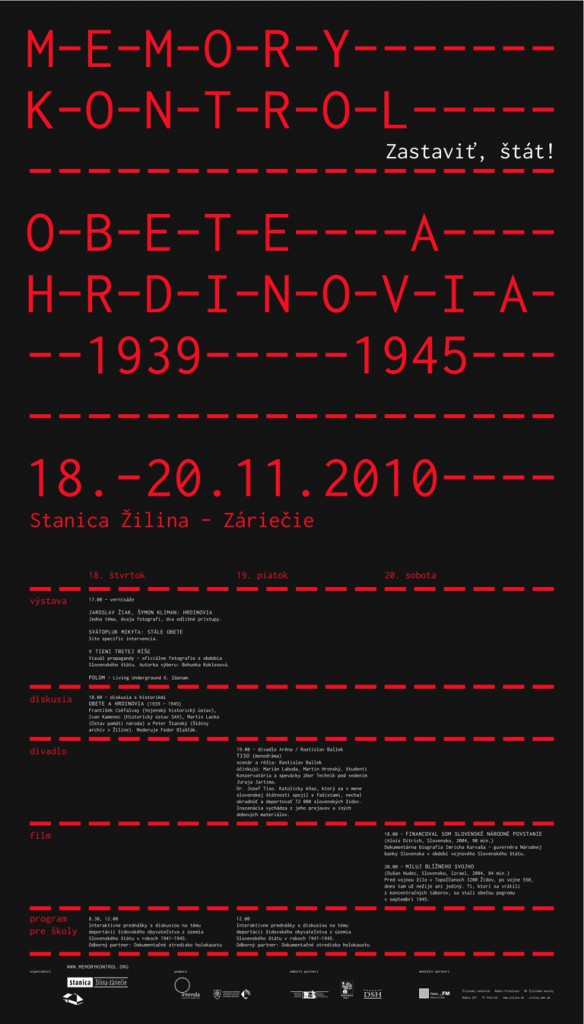 The films, theatre and discussion is in Slovak, without translation to English.